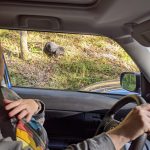 Happy Friday, my friends. I'm currently at the "close enough" phase of building stuff, and waiting for the primer coat to dry on pieces I'm hoping to have done for VoltCon this weekend, so I'm taking a few minutes to give y'all an update on what's going on over at the Geek Cave. Oh, and pictured? Lizz in shock that there was a bear that close to the road while driving around Gatlinburg, TN on our final morning there. We figured someone tempted Yogi with a spilled picnic basket so they could get some good pictures.
VoltCon
Tomorrow and Sunday is VoltCon 2020. This is a smaller convention that wasn't able to be cancelled, even in the midst of the virus. So, they're making the best of it, doing everything they can to make sure every person there has as safe an experience as they can. This weekend, Lizz is helping with the convention along with her teen, and I'll be tabling, showing off my poor finishing skills with 3D Printing, but hopefully showing how you can get started making cool things. If you're at the show, please stop by and say hi, but understand that I'm going to be staying on my side of the table, not touching anything or anyone, because I am still extremely paranoid and worried about everything, so don't take offense! I'm still looking forward to seeing everyone, though, so please say hi!
3D Printing
Right before we went to Tennessee last week, I started getting some extrusion issues on my CR-6 SE. I'm not too worried, because it's been running fairly constantly since I received it at the end of August, and there are pieces that can wear out. I just need to find out if it's something as simple as a nozzle replacement that needs done, or if I need to take a look at the actual extruder. So, fortunately, it should be an easy fix. Unfortunately, it means that my hope to be running it during VoltCon, printing ear savers or other small simple items for people at the show has been dashed to the wind. I'm just not going to have the time to do anything between now and set-up during the show. The week after the con, I'm going to rest, and then jump back in, getting everything back up and running and starting back up on my projects, like the costumes I wrote about the past few weeks.
Twitch Streaming
Last night, we did our last Extra Life stream for The Andromeda Initiative before Extra Life Game Day on November 7th. The next stream will be over on the Indiana Geeking Twitch account, tentatively from 10 AM to 10 PM on Saturday, November 7th. I'm looking to get as close as I can to my $1,000 goal for Riley Children's Hospital, and I'm wondering what would pull you all in to spend part of your day with me, and throw some money at this cause? Some of the ideas I've had so far include:
Nintendo Switch Streaming – I've easily got a couple hours worth of shaking trees, strip-mining islands, and developing my island that I can do, and it's a relaxing way to also chat with y'all as I'm playing. Plus, I've got games on the Switch I've never even played, like the Mario game and Minecraft Dungeons. So, there's a few hours of easy-going streaming right now.
PC games – I've got a few games that I can try running, though I'm not very good at PC gaming.
PS4 – I've never played Spider-Man, or I can start over on Kingdom Hearts 3.
PS3 – Lord, I haven't played the Mass Effect games in ages.
Twitch Watch Party – Want to watch a movie? How about some Star Trek? We can do this.
Sadly, some of the other stuff I'd like to do, like stream my work down in the Murder Basement Workshop, I'm not quite set up to do, as of yet. Still, I think I have a good amount of ideas, and I'll have a schedule posted up on Tuesday Tidbits the week of the event, but is there anything in particular you all would like to see? Reach out to me in the comments, or on Twitter, and let me know!
Social Media
Some of you may have noticed last week, everything that went up on social media was either from my Instagram feed, or scheduled tweets for my blog posts. This past week, I've kinda been "clocking in" every morning with something pertaining to the day, and #TheGeekIsIn, and then "clocking out" in the late afternoon with #TheGeekIsOut. Well, this is because I'm just done with doom scrolling, and I'm taking some of my time back to take care of myself, a little bit. Not staring at social media gives me more time to read, to write, to fix, and to build, and that's what I've been doing. Facebook and Twitter are staying off my phone, but I'm keeping Instagram to post update photos of what I'm working on.
And with that, I'm tired, I'm hurting, and I'm getting off the computer. I'll see you all on Tuesday for Tuesday Tidbits, then Friday with the special Halloween episode of You're Gonna Love This… or Not…!