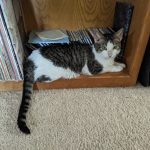 Hey there, friends.
I'm really hurting after sitting at a PC for hours during the day, and I'm not feeling up on doing anything long for a blog post. So, today, I'm doling out some info that's too long for Tuesday Tidbits, but too short for it's own blog post.
Plus, it gives me the opportunity to put yet another pet picture in your feeds, this time it's the Elusive Cat.
So…
What am I working on?
While I haven't been posting much, I have been busy 3D printing, and starting to assemble, some costume pieces on the Creality CR-6 SE. The smaller bed has made the going slow, but the reliability of the machine so far has more than made up for it. I've only had a handful of print failures since I received the machine, and I can tell you exactly why each of them happened, as opposed to some of the failures of the Ender 3 that made me scratch my head for months. These projects will be written about, more than likely in early November, but for now they're kinda on the down low, at least until after VoltCon in four weeks. At least, they are if you're not my one of my Patrons, but we'll get to that in a minute.
In a few weeks, we're taking a trip down to Gatlinburg, TN. Before everything hit the fan, we told my parents we'd go down there with them this year, and we're holding to it. The only difference is, we're not going to be doing many of the touristy things, or shopping around, or sight seeing. It's mainly going to be a change of walls, with a balcony that looks out over the Smokey Mountains where I can drink coffee and read in the mornings, instead of doom scrolling social media. Once we get back, it'll be a week before VoltCon, and then Lizz and I are going to start getting materials to build the printer tables for the office. Once those are built, then we're going to set the resin printer back up, and fix the big printer, and we'll be back in business, and I'm going to start printing V.I.N.Cent from The Black Hole as we go into winter.
Patreon Update
All summer, I have had Patreon on hold. I figured, as I wasn't doing anything, I shouldn't be charging anything. However, as I'm starting to get back into the swing of things, my savings for the blog are dwindling as I keep paying monthly bills, and I pay the yearly domain name fees for the blog. This means that starting October 1st, I'm going to start gathering the monies again from my Patrons. In addition to this, I've completely re-worked it, making it a single tier of $1 (which I guess is also Pay What You Want above that buck) that gets you a shout-out on the blog, and gives you access to the Patron channel on Discord. In addition, I've been giving weekly updates on what I've been working on, even if it's a "secret project," and just trying to make myself as accessible as I can to those who are willing to help me with this, financially. In the future, as my ribs heal, I'll also go back to posting monthly updates on my accordion playing, though I'm not sure how long it will be until I can get back into that.
Geeking in Indiana Amazon Storefront
Love it or hate it, everyone has been using Amazon over the past six months. Every time I use it, I've been making sure I'm using either affiliate links from friends, or Amazon Smile to help out EARPS. So, I'm asking you all to also keep me in mind if you're using Amazon to grab toilet paper, or groceries, or anything like that. Plus, it looks like Amazon has started "store fronts" where you can put items in their own categories, which are affiliate links, as well. I went ahead and started one for Geeking in Indiana (link) that has links to the podcasting equipment we use (you know, when we can get together and actually podcast), the movies YGLToN has watched, 3D Printing items, and more. Feel free to take a look, and help the blog, if you can!
Ways to Support the Blog
Finally, because I just can't sit at this PC much longer, I wanted to throw out a few more ways you can help the blog, either by throwing money at it, buying things from it, or buying from places other than Amazon that will turn around and throw money at me.
Ko-fi – If you don't want to give monthly, but you do want to throw some change at the blog, every $3 donation helps, and is greatly appreciated. Plus, as you can tell, it's a great site to help support any creators whose work you enjoy, so I strongly recommend making an account to help them out.
Bookshop – This is small now, because I've just started using it. It's a great alternative to Amazon if you don't want to help Bezos buy another gold toilet. I'll be putting books I read and enjoy up there, if you're interested.
TeePublic – This is where you can get the stuff to wear my logo on your body. Everything from shirts and hoodies to notebooks and face masks, and they're all fairly decent for "print on demand" items, except the face mask. I would just recommend that as a novelty item, nothing more.
And with this, I'm getting off the computer, and going to lay on a heating pad. Getting hit by a car while you're getting old isn't fun, kiddies!
I'll see y'all next Tuesday for the newly expanded Tuesday Tidbits!
Tony