Back in the end of 2013, I talked about Costume Initiative 2014. Last year was the year I was going to get back into costuming/cosplay. Well, real life got in the way, along with a lot of other unpleasantness, so I wasn't able to focus on it as much as I would like to. Even though, I was still able to get a few things.  You saw me write about the Battlestar Galactica Double Tank, and the Fallout 3 Vault 101 Jumpsuit, for example. This past Halloween, I was able to throw together a Pip Boy 3000 out of foam to get a decent Halloween Costume, but that was the extent of my "completed" costumes for 2014. However, as I'm going into 2015, I'm deciding to fill any of my spare time, instead of with video games or drinking at bars, with costume and prop work.
I have three costumes, in various stages of completeness, that I'm focusing on right now. Between these costumes, and the Geek Fitness that I'm going to stop writing about, and just start doing, I will be busy enough for the first part of the year. Plus, since many of the pieces are items I've received as gifts, or I've picked up over the course of 2014, it'll also be fiscally  feasible for me to complete at least one, if not more, by my first convention in March. So, what am I planning on getting done?
Battlestar Galactica Green BDU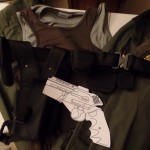 You had to know this was coming, since I own the double tank top. Over a year ago, one of my costuming friends did a group run of the jackets and pants for the BDU's. She dyed them all at once, used the same straps, all so a group could look cohesive. I jumped on this, because it was inexpensive, and it would give me a comfortable hall costume. Well, this has turned into a little more than that, as I have also ended up with the utility belt from Anovos. To my knowledge, this means I'm about halfway there. I still need to do research on what goes in the pouches, make a pair of guns out of foam, based on this blueprint by Punished Props, work on a set of insignia and dog tags, and get a pair of boots.
Fallout 3 Lonesome Wanderer
Yeah, the Halloween costume went over pretty well, but I know I can do better. I need to wear the jumpsuit a little
bit, so it doesn't look as new, as well as add the belt and shoulder pieces to it. I want to completely rebuild the Pip Boy 3000, probably still out of foam, but with a more accurate piece around the arm, and perhaps some electronics on the inside. Also, I need to add some straps and armor to the costume, as well as figure out what type of weapon I want to carry. Luckily, there are many good resources for me on this, and most of the stuff I can build myself as the weather gets warmer. Finally, the boots are probably going to be similar to the boots I'm going to use for my next costume, so added bonus for a two-fer!
A-Wing Pilot, Star Wars: Return of the Jedi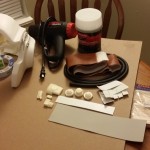 This is going to take a bit of work. Luckily, I have a friend who did a run of the soft parts (jumpsuit, vest, spats, harness, belt, etc) last summer, and I was able to get in on that. I should be picking up the parts on the 18th of this month, so I'll be able to see what all I need to complete at that time. However, my biggest concern is getting the helmet assembled, as it's still in some pieces. This is another costume where the goal is to have it completed by March. Hopefully, by that point, I'll have had the opportunity to get some of my costume pieces out of storage in California, so I don't have to try to track down a spare set of gloves or boots.
These are my big three costumes. I still have a desire to recreate my Ghostbusters costume, work on the N7 armor, work on foam armor crafting, but these are the big three that I already am close to being done, so I need to focus on them before anything else. Then, I can look at Star Trek uniforms, and more Star Wars pilot costumes, and my Colonial Marine armor.
How about you? Are you working on anything over the course of this year? What are your costume goals?
Tony