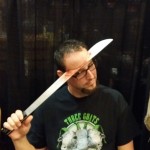 Last week, I mentioned that I was attending the HorrorHound Show, thanks to their kind donation of a press pass for me. While I'm not necessarily a Horror Geek, I have seen their conventions coming to town fairly regularly for some time now, and I felt the need to check it out. So, I went out on a drizzling Saturday morning to visit the Marriott East off 21st and Shadeland to check out this celebration of Horror.
The first thing I noticed, after finding parking about a block away, and then finding out where "Will Call" was so I could pick up my arm band, was that this show was spread out. I was used to smaller shows at the Marriott having one hall for vendors, a section for autographs, a hall for panels, and small side rooms used for other activities, like movies and model shows. This show, just from what I saw, had a couple of halls for panels, a couple of halls for vendors, as well as other rooms for activities, which surprised and pleased me greatly.
The first hall I went into was the Mask Fest hall. This hall had all of the, well, masks. This was where you went to find cool costume pieces, awesome work from mask makers, and the visiting FX artists. This hall is where I found cool stuff from Dirt Knap FX, Xtreme Design FX, and Savage Visage, among other dealers. There was a lot of good stuff besides FX, as well, like puppets, posters, and some collectibles.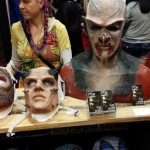 Before checking out the second hall, I wanted to catch the panel held by my former boss, Steve Johnson. Steve has been in FX for many, many years, having learned the trade under Rick Baker on "American Werewolf in London" before moving on to Boss Films, working on movies like "Ghostbusters". When I worked for him, it was under his own banner at Steve Johnson's XFX, which had done FX for "Virus", "Bicentennial Man", and "Blues Brothers 2000". He talked a bit about his past films, his thoughts on practical FX, and made some Red Hot Chili Peppers jokes. Steve is very rapid fire, and very energetic, and very interesting to listen to. Also, for those who care, he did not recognize me until I introduced myself, but as a friend told me, the last time he had seen me was twelve years and thirty pounds ago, plus I had a full head of hair, so I'm not feeling too bad.
After Steve's panel, I went to check out the second room. This one was packed and cramped, with all of the visiting stars along one wall, and short, tight aisles down the middle. This made me feel bad for the dealers, as I couldn't hit many of the tables, or check out a lot of the stuff. The one booth I did have a chance to check out, that made me regret not having any spare cash, was the Thirteenth Floor booth, with their cool prints and shirts. I'm sure there were other awesome booths there, but they were very difficult to check out due to the crowded, cramped nature of the room.
All in all, it seemed like a good show, and everyone there looked to be having a good time. While it's not my scene, I wouldn't hesitate to recommend this show to anyone who has an interest in Horror, FX, or things like that. For future shows, you'll want to keep an eye on their website, which will show not only Indy shows but other shows of theirs, as well, some within driving distance.
I would like to thank HorrorHound for providing me with the pass to check out their show! It was definitely a different experience for me, although there are always some constants in the convention scene, like Deadpool.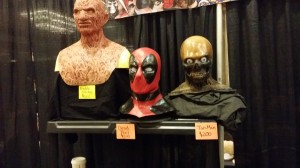 Tony