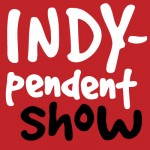 This past weekend was Indianapolis' second INDYpendent Self-Publishers Show. This show/convention is less of a traditional convention, and more of a "Let's teach and learn and make awesome books and comics together!" sort of show. This is a great atmosphere, and allows a good exchange of ideas between some of our seasoned vets, and some of our up and coming creators.  You can see everything that was planned to happen at the show in this blog post, and all of that, indeed, happened.
However, what were some of the spots that shone for me?
First, seeing friends. All of my friends from the Indy Webcomics Group, the awesome crew from Crit Confirm, friends from other locally ran shows and shops in the area, to the folks putting on the show. The main reason I love shows is the ability to see these friends, even though I'm starting to see many of them outside of conventions, and meet ups. I had the opportunity to talk to friends about their projects and ideas (Check out SK8BIRD by G Pike!), harass Indy Pop Con about their next show date (nothing, yet! I swear! They're working on it!), discuss bow tie tattoos, and just generally Geek out with awesome people for a better part of the day.
Second, I got to meet some great people. Matt Allbright, for example, does Reggie the Rabbit, a comic I just learned about that I'm looking forward to checking out.  It's a comic about an alien infection hitting a small town, and it looks interesting.  There was also… I am actually starting to hit the point where I need to stop hanging out with people I know (which was about  3/4 of this show) and start introducing myself to everyone else, so I can actually write a paragraph on this. EDIT: This is why I hate calling out people, because I always forget someone! I also met Tony and Jared from the Geek Stuff off the Cuff podcast, and it's getting put on my list of stuff to listen to if I ever get the time!
Finally, I was able to participate in my first panel! I sat on a panel concerning "Building Communities and Promoting Your Work" where Bryan Spellman, John Graham, Lee Cherolis, and I talked about the different types of social media, what it meant to us, and what it meant to promoting yourself. Thanks to Chris Ludden for putting this panel together, and I look forward to further incarnations of it, so we can hopefully answer some of the other questions that were put forth.
I can not stress enough how great it is to have a show like this here in Indianapolis. John, you are doing more to build community and bring Geeks and artists together than I can ever hope to do, and for that, I salute you! I'm looking forward to helping out, any way I can, for the next shows in April and Fall of 2015!
Folks, keep an eye on my blog for the next show, and mark your calendars. It will be worth it, I promise!
Tony