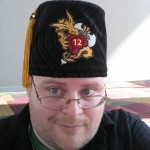 I realize we are coming into summer, which is serious Convention season. I mean, let's face it: nothing says "Let's put on elaborate costumes consisting of a lot of layers and stand around in a packed room full of people" like the summer heat! However, probably due to school breaks and summer vacations, summer is the prime convention season, not just in Indiana, but across the country. Personally, over the course of June, July, and August, I have five conventions I'm planning on hitting. Today, I figured I'd let you know what those five shows are, and what I'm planning on doing for them.
Indy Pop Con
This is my first major convention of the summer. Indy Pop Con is coming into their third year, and they bill themselves as a "convergence" as opposed to a "convention". This is a great show for folks who are wanting to talk to people involved in making cool media. It is full of YouTube creators, game creators, podcasters, artists, writers… the full nine yards. Team Geeking will also be in attendance, in force! Bri and Sam are tabling for their comic, Paul & Olly (have you seen it? It's awesome! Click here!), and Grant and I will be members of the press, in roles which we are discussing this weekend. In addition, Lizz will be joining us as a photographer and videographer, so all of my photos won't be selfies, this time around! In addition, I have finally figured out how to hook microphones up to my recorder, so audio this time around should be leaps and bounds better than the last few times I've used it! So, big thanks to Trae Dorn who showed me what I was missing on it, and made me feel the fool! This was a good thing, in this instance! Also, I'm going to be involved in a couple of different events at Indy Pop Con! First, on Friday night at 7:00 PM, we will have the 3rd Annual "Awkward Twitter Mingle"! Plus, on Saturday night, in the open gaming area, I'll be helping host the Indy Webcomics Group Board Game Meet Up! Look for more information on those, the week of the convention!
InConJunction
For the first time ever, I'll be tabling at a show! For those that don't know, InConJunction is one of the longest running, if not THE longest running, fan-organized science fiction and fantasy convention in Indianapolis. After a conversation on Twitter, I was approached by the show concerning a fan table, and the possibility of hosting an "Awkward Twitter Mingle" at their show, as well! So, I will be here over 4th of July weekend, and I'll be promoting the blog, and trying to record some podcast material, and shoot some video with attendees!
TeenCon 2016
As some of you might remember, last summer's teen library reading program was based around superheroes. This caused a lot of local libraries to hold mini-comic conventions. At the New Castle library, their convention was called "Teen Con" and it proved to be a success for the community, so they're bringing it back this year! As someone who was born in New Castle, grew up in Henry County, and played a lot of Dungeons and Dragons, as well as Magic: The Gathering, at local shops, I will be attending as a guest! More information will be coming in July, but mark your calendars now for a fun little library show!
Gen Con
As I have the past few years, I will be in attendance at the Best Four Days in Gaming! I am planning on jumping hardcore into actually playing some games this year, as opposed to last year, where I was chasing down interviews all weekend! However, I will still be chasing down interviews, since I really enjoy doing them, and putting them out there for you all to listen to!
Indiana Toy and Comic Expo
I was able to hit this show their first two years, but sadly I missed last year due to some conflicts and issues. However, I will be heading down to Bloomington for their show this year, and I'm looking forward to trying to find some Starship models and toys on their sales floor, talking to some of the Geeks in the more southernly portion of the state, and having a good time!
This will be it until October, but we won't worry about that until late September! So, do you have any Hoosier-based conventions you're looking forward to? I know, I was curious about Droid Con, which is happening the same weekend as Indy Pop Con, but as they have completely ignored every request for information I've put out to them, I'm just going to spend my time elsewhere looking for parts to build R5-D4.
Tony