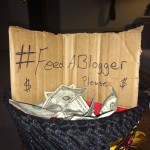 At the end of January, I wrote a post called "Where Does The Money Go?" (LINK) to show that I'm not just asking for beer money, or eating steak dinners at the expense of my blog readers. Since that time, I've received a lot of great support through Ko-Fi, Amazon Affiliates, Patreon, and more. This has enabled me to take care of one chunk of the list that I wrote out, so I figured I'd do another post talking about all of that, so you all can keep track! Now, this isn't 100% open. I'll have some small, sundry items that I need to buy, and as I'm doing the artist commissions, each of these are going to be different and vary from customer to customer, so I'm not putting what I pay out there. I'm just going to update this post whenever I have a new purchase made that's beyond the typical domain name fees/artist commissions/podcast hosting fees.
February
On February 13th, I received a package with three microphones, six cables, foam mic covers, and the module for the H6 that enables me to record with up to six microphones. This now gives me a fully portable, 6-track recording setup that I'm currently using at both the Geek Cave Studios and the SFP Studios. This will also help keep larger groups, like the Shake Ups, from needing to pass microphones around as they're recording their podcast episodes.
This group of items was pretty far down the list, but as I was looking at a table full of people at the Social Sci-Fi Podcast, listening to some of the plans being made by YGLToN, and knowing I'll probably be recording with the Shake Ups again, I made the decision that this was a "sooner rather than later" purchase, and I don't regret it a bit.
Thank you to all of the supporters of Team Geeking through all of our channels! Keep an eye on this space for any updates, for those who really care how a blog and podcast spends their money! I don't mind telling you, at all!