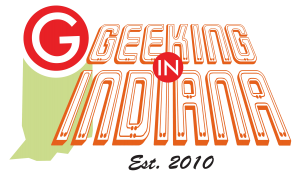 Every year, I have a tendency to take a look at the year ahead, and put forth some goals for the blog. Sometimes I call them resolutions, sometimes goals, sometimes plans. Some of them I achieve, but most of them? I really don't. 2020 is going to be much the same way, but this year, it's a little different. You see, if you've been paying attention to Tuesday Tidbits, you know that this is the ten year anniversary of the Geeking concept in general, and Geeking in Indiana in particular.
Back in January 2010, I was crashing in a spare room at a friend's house in Pasadena, California. I was unemployed, and putting in five miles a day, pounding the pavement of Pasadena, trying to find work. During this, another friend gifted me an old laptop from his job, which I was using to fill out online applications, watch DVDs, and keep my Zune synced. Just a few months before, the internet had lost the wonder that was GeoCities, and in that, I had lost my web page that talked about my family, the costuming work I had done up to that point, the full nine yards. You know, your typical Nineties personal webpage, complete with the blinking "Under Construction" gifs. Anyway, as I was putzing around after another day with no new job, I was looking at building a new site, and I started to take a serious look at blogs, and WordPress in particular.
As I was wandering Pasadena, especially going up and down Colorado Blvd, I was finding all sorts of cool places. I found a great comic book shop, Comics Factory, a comfortable and friendly game shop, Game Empire (which is now in a new location), and a fairly poorly stocked hobby shop with a poor attitude towards anyone who wasn't in their friend group (which I see, as I looked up my old Yelp review, is now closed).This led me to thinking about whenever I would visit a new area, I'd always pull out the Yellow Pages and see if there were a nearby comic, game, hobby, or toy shop. What about a blog that did that same thing? That listed those shops, gave you an idea of what they were like, and gave you the information you needed to visit them?
So, lo and behold, Geeking in Southern California was born on February 8th, 2010.
However, even with my family, my friends, and my blog all being based out of SoCal, the state didn't want me around. I could find no work in the amount of time I gave myself, so I eventually flew home to Indiana in May. As I started going around my old stomping grounds, looking for work, I picked back up with the whole "Geeking" concept, and Geeking in Indiana had the first post up on June 6th, 2010. Since that time, the site has gone from self-hosted, to crashing because I had no idea what I was doing with WordPress, to going to WordPress.com, to going to Blogger/Blogspot, then heading BACK to a hosted site, where it currently sits today. It has gone through a lot of different focuses, starting as a way to document shops, then moving to also talk about conventions, media, and other items of Geek interest, to the introduction of Tuesday Tidbits. I spent an entire year blogging every weekday, Monday through Friday. I've had the help of friends, whom I affectionately refer to as "Team Geeking," over the years. I've hosted a podcast for five years, I've been quoted in local news media, and I've generally ran with whatever I've wanted to do over the past ten years.
Now, rolling into 2020, I find myself getting tired, and a little burned out. So, if anything, my goals/resolution for this year is to regain my focus, and go back to my original concept. Don't get me wrong, we're keeping Social Sci-Fi and You're Gonna Love This… or Not… every second and third Friday, and Tuesday Tidbits has become too valuable to a lot of people, I feel. However, past there? The bulk of the articles on this blog are going to be updates on the existing Shop Visit posts, and new ones covering not just central Indiana, but hopefully the entire state. These aren't going to be out on a specific day, like the past "Friendly Local Shop Friday" posts. Instead, they will be out as soon as I can create a coherent post about their location. Plus, I'm going to be more blunt about what I see when I visit locations. When Lizz and I walk in, are they only talking to me, and ignoring her, even though she's the one asking questions and looking for something? I'm calling you out. Does the store smell of mildew and feet? I'm sorry you can't maintain a clean location, people are going to hear about it. Are you shit-talking other stores to try to make yours look better? I hear it, it's going in the post. Conversely, are you friendly to everyone who walks through your doors while I'm there? That's getting a mention. I want to give a better idea of the kind of place you're going to be going to, past a Google/Yelp/Facebook review that could be written because someone was pissed that a comic shop wouldn't give them hundreds of dollars for their collection of holographic variant covers from the Nineties.
That is all I guarantee to have up. Do I have other things I'm working on? Heck, yes. However, I've learned over the years that if I even mention I'm working on something, I'll either get hit by a car and sidetracked, or people will think it's starting in the next few weeks, and start harassing me about when it's coming out. So, until I get stuff figured out, I'm just keeping some information close to the vest.
All of us who are currently working on the blog and podcasts are looking forward to getting some good stuff out there for you in 2020. Please, stick with us!
Tony Troxell
Head Geek, Geeking in Indiana