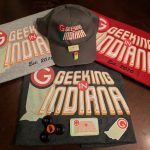 It's that time of year, right? Today's the day where many of my readers are going to be stuffing their faces, and then going shopping. It's the kick-off of the biggest shopping weekend of the year, with Black Friday, Small Business Saturday, and Cyber Monday running from the 24th through the 27th.
Now, I'm going to keep this short, because today is the day you should be spending with your family, or friends, and not reading this blog. However, I wanted to have something here to help you take your mind off the incessant political discussion, so here we go!
First off, please remember to support local. If you aren't sure of a friendly local shop, then know the "Find Your Friendly Local Shop Here" page is available for you twenty four hours a day, seven days a week, to help you find Geeky gifts for your family and friends.
In addition, because I have, you know, some Geeking stuff laying around, starting tomorrow I'll have a sale on Geeking in Indiana merchandise, both the items I have on hand, and the items in the My Merch store! Here's what we've got going on:
Geeking in Indiana Shop– Starting on Friday, November 24th, and running through Monday, November 27th, you can use coupon code "holidayshopping" for 20% off your order! Please note, though, that I will be at Starbase Indy for the entire weekend, so I won't be able to actually do anything with the orders until the evening of Sunday the 26th! After the con, though, I'll start getting everything packed up, and I'll get it all shipped out on Wednesday the 29th, after the sale is over, and I have a chance to get all the orders packaged, labeled, and ready to ship.
MyMerch Store – Also running from Friday, November 24th, through Monday, November 27th! MyMerch has agreed to give my readers and listeners 10% off everything in my section of the shop! Use the code "GeekingBFCM" at checkout, and you can get 10% off your Geeking in Indiana t-shirt, hat, coffee mug, or beer mug! Once again, this is only in MY section of My Merch! I can not guarantee that it'll work on the other parts of the store, because that would be cutting into those creator's sales!
If you've been looking at any of the Geeking in Indiana items, this would be a great opportunity to get some, and help me prepare for the upcoming bills that happen at the beginning of the year! It's a win for everyone involved!
Plus, it'll help me get the rest of these fidget spinners out of the Geek Cave!
See you tomorrow!
Tony