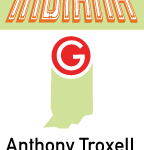 Heya folks!
A busy week means it's difficult to get out and visit friendly local shops, but it's a great time to hide away with a laptop and microphone, and record a new podcast! I'm still attempting to find my path, but I'm definitely enjoying the journey as I wander aimlessly with my microphone and my laptop at my side.
This week, I think I'm running a hair over ten minutes. Here's the chance to fill your earholes with me:

Here are some important links to items I talked about:
Things To Do:
Posts mentioned:
I would also like to give a big thanks to Karen, Caleb, and Mike for giving me some questions for tonight's recording.
So, what did you think? When I gave it a listen, I thought the sound levels were much better, and I didn't do any screaming clown gags. I'm glad I got some good questions from folks, but I would like to keep getting them, and keep that going. So, what am I missing, other than a catchy theme song, and fancy graphics? I know I had some requests for things like costume and prop updates, but in all honesty, that's a very visual medium, so I'm holding onto that for the eventual YouTube channel.
Let me know what you think in the comments!
Tony