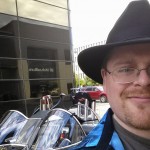 Trying to be a "Geek around Indiana" and hitting various events, conventions, and shops is exhausting. There are so many conventions, shows, shops, and other events that I try to hit, I'm starting to wear down a bit. After Who's Yer Con and the INDYpendent Show last weekend (thoughts on those in tomorrow's podcast), I'm actually able to take a few weeks off to recharge, restructure, and set for the plan for the blog over the summer. Actually, by "take a few weeks off" it means that I'll be sticking around the Geek Cave, writing, or heading over to meet with Tikikitchen Design and Studio 27 to talk about the future of the look of the blog, and what it will take to get it there. In the meantime, I'm going to be working on some fundraising plans, playing Mass Effect, an attempting to get a bit more active before the big conventions show up in the next few months.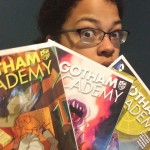 Starting in May, I'm going to be having a pretty hefty schedule of events. In addition to my birthday, and visiting the Geekling in California, I've got things happening, either with Team Geeking (Yes, Bri. Eventually we'll get jerseys) or solo. These are great opportunities to say "Hey" while also checking out a cool event. While I'm not planning on putting in any links (they can mostly be found in Tuesday Tidbits), some of the events I'm planning on attending are:
May 2nd – Free Comic Book Day, well… everywhere. Bri will be working at one shop, and I'm going to be driving from shop, to shop, to shop, documenting and grabbing free comics and just reveling in the Geeky atmosphere. I will mainly be in Indianapolis, though I'm tempted to also head out to Greenfield. You'll see why in next Thursday's FCBD post.
May 9th – Welcome to Nightvale in Bloomington. I'll be heading down with my buddy Mike, and I'm fairly certain that I'll be running into at least one or two friends, or blog readers, down there.
May 16th and 17th – Appleseed Con in Fort Wayne. I will be attending this for the blog, so expect to see the fez, and hopefully a bow tie or two. Bri will also be there, in the role of AWESOME ARTIST, so you definitely want to come up and see us. I'm also hoping to take some time to leave the con for a bit, and check out some of the local shops to update their FLS posts. I honestly haven't been up there since I started the blog in 2010, so I need to make sure I know who's still around, and update everything.
June 6th and 7th – Midwest Toy Fest in Indianapolis. Another "official" convention being attended by Bri, who is sharing an art table, and myself, who is wandering around in a fez, chatting up friends. The big deal will be Sunday, as Bri and I will be hosting a panel about Geek blogging, social media, and creating a community.
June 20th – Teen Con at the New Castle Henry County Public Library. This is a small, couple hour mini-con that's occuring in New Castle, IN. The big deal, at least for me, is that I grew up in New Castle, and I hit a couple of small conventions at the New Castle Henry County Public Library when I was in High School. For me, this is going home. I will be attending in a semi-official capacity, but without any panels or anything.
June 26th through the 29th – Indy Pop Con in Indianapolis. Team Geeking will be in full effect here, with both Bri and I attending as members of the press. I am hoping to do some interviews, some podcasts, and generally do a lot of promotion for both the blog and the convergence. I'm also hoping to not drive Bri to drink or an early grave showing her how the blog covers an event.
June 30th through July 30th – Breathe, soak my feet, and prepare for the Best Four Days in Gaming.
July 30th through August 2nd – Gen Con in Indianapolis. This is where I won't be able to walk for a week, afterwards. This will be a solo-show by me, as I wander the floor, bemoan the fact that I don't have the money to buy all the things, and attempt to score some interviews with game developers, costumers, and just… gamers. People. Geeks like you and me. I'd say to look for the fez, but this is the show where you acquire your fez, so it might be rather difficult.
August 30th – Indiana Toy and Comic Expo in Bloomington. This will be the final show of the summer, and it brings Bri back to an artist's table, and me back to walking the convention floor.
Please note: This isn't even through the end of the year. This is just over the summer. Plus, this isn't even Bri's entire convention schedule, as she'll be hitting some out of state shows, as well! The life of a Geek Blogger and Creator, folks. Isn't it glamorous?