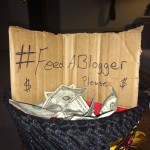 Often, you see me on social media, hawking my Geeking merch, asking you to visit my TeePublic shop, recommending that you shop using my Amazon Affiliate link, or reminding you of my Patreon, PayPal, and Ko-Fi pages. For once, I'm not linking to all of those. You can probably figure out how to access them. Instead, I wanted to have a little transparency, and go over WHY I ask for money. Trust me, it's not for pork rinds and Easy Cheese!
On Wednesday afternoon, I went ahead and took a look at the financial numbers for 2019. This includes looking over the monthly expenses, the domain renewals, the podcast fees, and upcoming expenses/wish list items for 2019. None of these involve wishes, dreams, and ideas like supplies for the Geeking Puppet, or anything like that. Instead, this is all items that are going to help with projects that are already in motion, for lack of a better term. Also, despite being a former accounting major, I'm rounding everything to the nearest dollar (ex., Dropbox for one year is $119.88, so I'm rounding to $120 for the sake of simplicity). Finally, at the end of each section, I'm putting the running total.
To begin, this past week, I had some awesome folks help make sure the Podbean fees for the Indiana Geeking Podcast are paid for another year. The Podbean fee is $108 for a year, and they don't give me the ability to roll it back to a monthly fee, so I had to scramble to get that money around. Thanks to a bunch of awesome friends, I was able to get it paid, plus have a little bit extra to get a jump on my PopCon Indy table fee. More on that later.
Total so far: $108
Now, monthly fees for Dropbox and hosting for the new Social Sci-Fi podcast, which Lizz is starting in the next few weeks, looks to be running $16.99 a month. I'm fortunate in that the crew at YGLToN are paying for their own hosting, though it still wouldn't be too bad. That's easily covered by my current Patrons, but it still adds up. In 2019, it'll be 12 months for Dropbox, and 10 months for LibSyn, so that total will be $190.
Total so far: $298
Next, let's look at some projects I'm working on for this year. First up? Well, if you aren't aware, this year, I'm putting a new profile pic/avatar up on Twitter, the first of every month. Each picture is a commission from an artist here in Indiana. When I change the picture, I'll then update my profile blurb, and put up a pinned tweet telling people how they can support that artist. Finally, after that artist's month is done, I'll be moving them over to a page here on the blog where people can always access that information. Of course, with the exception of a couple pieces that were already provided to me, I'm paying each of them their asking rate for a piece of art like this. I'm not going to give a breakdown of each artist is charging, because I have a sneaky suspicion that some are cutting me a deal despite my protests, but it looks like this is going to be running me approximately $300. I say "approximately" because I still have a few artists I'm waiting to hear back from concerning their prices, so this could very well go up. However, I'm comfortable with that number right now.
Total so far: $598
Another "project" is PopCon Indy. I've been tabling for the last couple of years, saying hi to friends, peddling blog merch, and attempting to raise money for the Exotic Animal Rescue and Pet Sanctuary, all while being on panels and trying to spend some time looking around the convention floor. A creator table with two badges is $250, and I haven't even looked at my need for a new table sign, yet, so we're gonna breeze over that for a bit. Oh, and since it doesn't need its own paragraph, let's also throw in my sponsorship for Shocktober in Irvington's cash bar, which was a welcome addition last year, which is around $110. Oof, 2019 is getting expensive.
Total so far: $958
Now, before we go into the stuff that I'd LOVE to get, I have one more need that I almost forgot as I was writing this out: Domain names. I go through 1and1, and they end up being $15 and change. I have domains for both GeekingInIndiana and IndianaGeeking, and I am holding on to GeekingUSA because I'm hoping to do something with it when I start travelling out of the state. So, right there, we're looking at $46, or currently one month's worth of Patreon money.
Total so far: $1,004
So, we've broken $1K, and that's just for domains, fees, and a couple of convention/event fees.
On top of that, I'm now using my podcast recording equipment a lot. I have a Zoom H6, which is simply a fantastic piece of equipment. It supports 4 microphones, recording on 4 separate tracks. However, if I'm talking to more than three people, it means a couple have to share a microphone, and if those people speak at different volumes, it makes editing really difficult, and everything sounds uneven. This can easily be fixed by a EXH-6 Dual XLR/TRS Capsule ($79.99, Amazon), which will plug into the top and give me the ability to record using six microphones, on six separate tracks. This would enable me to interview full bands, and give Lizz an extra couple of people on her new podcast. Now, when I get one of those, that means I'll need extra microphones and cables. I already have a set of 3 Behringer Microphones ($39.99, Amazon) and would do just fine with another set. As I was also looking for new shielded XLR cables (I don't think my old ones are, because trust me, I hear this stuff before editing), I found this set of Neewer cables ($28.99, Amazon), in a six-pack that comes in Green, Blue, Purple, Red, Yellow, and Orange that will make remembering who's in what output so much easier, especially if I match them with colorful foam microphone covers ($6.97, Amazon)! Now, I'm sure I can find this stuff cheaper if I shop around, but Amazon wish lists help me know exactly what I'm needing to buy. Also, the colorful cables and covers aren't just to look, well, colorful. I have been having issues remembering which microphone is plugged into which section on the recorder, and with the hopeful addition of two more ports, it's gonna become harder. So with this system, I match the mic cover with the cable, and life becomes easier! However, it'll be about $156 before I can get everything, and worry about that.
Total so far: $1,160
Finally, some small things. I'm looking to stop doing pins after this year, but first, I REALLY want pins for the Geek Rats and the Geek Pup. Up front, that's going to be approximately $400, but I'll hopefully see some of that come back, and it'll still have some money going towards EARPS. After that, despite having other pin and merch ideas, I'm probably going to lay off for a bit, because I still have a generous amount of inventory from the past few years, and it looks like I should just stick to the writing and recording. I just want those last two pins!
Total so far: $1,560
Of course, this isn't everything. I need a new table banner, because the sign I've used for the last few years has given up the ghost. I'd love to get a lavalier mic for my small recorder, because I want to finally start experimenting with event videos, but I'm not sure what they run. I'll have gas to events and stores this year. I'll have parking fees at conventions. If I'm doing a show in northern or southern Indiana, I might end up with hotel fees. However, I think this absurdly long breakdown gives you an idea of why I ask you to buy my merch, and help us out.
Have a fantastic weekend, and I'll see you all on Monday with a Patreon-version of Media Monday!
Tony