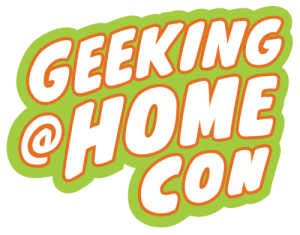 My friends, welcome to Geeking@Home Con!
I'm going to be honest with you, my friends. Ever since last summer, some friends and I were talking about starting a convention, bouncing around ideas, but ultimately not going very far with it. Now, here in the age of convention cancellations and postponements, I'm going ahead with my own "convention."
Geeking@Home Con is an attempt to help those creators and vendors who are getting hit pretty hard by, well, *gestures vaguely at the world*. Like any good convention, we've got an Artist's Alley, an Author's Alley, Cosplay Corner, and of course, the Vendor Hall for comic shops, toy stores, and the like. Each of these will have it's own page here on the blog, and I'll constantly be updating as new "vendors" request space. In addition, we have a Main Stage, where I am putting up a schedule of streaming band performances, and maybe even some Zoom "panels" that friends are looking into doing.
Both the entry fee, and the cost for a "booth" is free! I just want to throw what "weight" and "reach" I have towards helping out the folx I see at the multiple conventions I hit every year. Vendors will be listed in order I receive their requests to be added, so please make sure you're scrolling through all of them, to check out their work!
If you wish to be included, all you need to do is visit the Vendor Registration Page, fill out the requested information, and I'll get your "table" set up ASAP. I am trying to keep this local to the Indiana convention scene, but let's be honest, here. I'm not heartless enough to say, "You're hurting and need help? Sorry, you're not a regular to our convention circuit. Bugger off." So, use that info how you will.
So come on in, see what's going on! Geeking@Home Con is happy to have you! Please, take your time, check out all of the vendors without having to worry about awkward conversations, look through the artists, instead of rushing through them to go score an autograph, and if you see something you like, and you're able, please toss a coin to your favorite creators.
For some of you, this is the only place to go when you hit a convention. For others, it's the place you cut through to go get your autographs. Here, I ask all to check out the talented artists and creators we have showing their hard work, and show them some love.
There are many fantastic authors that pop up at our local conventions. Their works cover young adult, fantasy, science fiction, war, romance, poetry, and sometimes, even, all of the above! You have plenty of time to read right now, so take a look!
Cosplay is essential to any convention experience! An added bonus to cosplay at this convention? You don't have to hold up traffic in the middle of an aisle to check out the awesome costumes!
Comic shops, toy shops, the people with the nifty bows ties, all of that will be in here. It's where the rest of the vendors go!
This is where any streaming performances will happen! This will be a schedule, along with a link to their event!
Disclaimer: Geeking@Home Con is just a way for Geeking in Indiana to try to help those creators and vendors who are being hurt by the pandemic. Unless explicitly stated, none of the events or shops are exclusive to this "event" nor are they under any obligation to participate. In that respect, Geeking in Indiana is only the listing agent for all of the vendors and events posted on the page. While I do my best to make sure everybody is on the up-and-up, I've been fooled before, so caveat emptor.