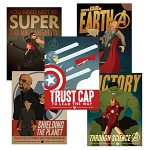 Good day, folks! It's time for a SUPER SPECIAL ULTRA EXCITING FRIDAY EDITION of the Geek Gift Guide. When Michelle and I were talking about this, we really didn't want to push it so you had less than 5 business days before Christmas, so we are giving you our final Geek Gift Idea list! This time, it's for the Superhero fan! No publisher wars here, we're just giving you the nifty stuff we enjoy! Plus, as an added bonus, we're throwing in a small selection of Geeky stocking stuffers at the end! Don't forget, we also have lists for The Trekkie, The Gamer, The Whovian, The Professional Geek, The Star Wars Fan, and The Geekling available on the blog, as well! So, once again, it will be "ladies first" with what Michelle has brought us! Note: All links are affiliate links! #FeedABlogger
Michelle's Picks
Avengers Assemble! It's time for iced tea.
 – You really can't call yourself a superhero until you're drinking out of these bad boys.
Marvel Comics Avengers Propaganda Poster Set – Okay, so I have a thing for posters (who's keeping track, though?). I love the vintage-like designs on these posters, especially on Captain's. 🙂 No longer available.
Sock It To the Bad Guys – Superhero socks with capes? I mean, come on!
Marvel Iron Man 3 LED Arc Reactor Ring – Everyone needs an arc reactor in their life. Well, preferably one that's an awesome ring and not one that's inside of you. (Unless you're into that sort of thing). No longer available.
LEGO: Marvel – Xbox 360 – I want this game so badly. It seems that every Lego game has been great and I couldn't imagine this one being less than that. It's perfect and you should buy it for someone (or yourself). 😉
DC Comics Men's Batman Mask Peruvian with Ears – This is the ultimate winter hat. Imagine hearing a voice call for help while you're walking to your car, but you don't want to use your superpowers in public. Slip on this mask to not only protect your identity, but also to keep warm during those cold winter nights.
Tony's Picks
Green Lantern Insignia Ring – In brightest day, in blackest night, no evil shall… Frak it. I'm going to use it to make dinner while I play "Arkham Origins." No longer available.
DC Comics Caped Shot Glass – These work well for when you're looking for something that'll knock out Tony Stark. Plus, to quote Michelle, "…capes? I mean, come on!"
Captain Hammer T-Shirt – Like it or not, he was a superhero. Just try not to get sent to human resources by asking people if they know what the hammer is.
Batman Apron – So, those magazines at the grocery store check-out lanes tell me that there is nothing more attractive than a man who knows his way around the kitchen. Wrong. There is one thing. Batman. So, ladies? Care to chime in?
DC Comics Deck Building Game – I know I included this in the Gamer list, but oh well. It's fun, fairly easy to pick up and learn, and fun! Yes, I know I said "fun" twice, because it's fun.
Iron Man 3 Deluxe Hero Tony Stark Light-Up LED Shirt – For those who like their arc reactor's in their chest, here's the closest you can get without having to get shrapnel inching towards your heart.
Finally, as promised…
Stocking Stuffers
Mini Batman Bat-Signal – *Squeee* It's a mini Batman Bat-Signal! This would be perfect as a stocking stuffer or even just as a small gift. – Michelle
Doctor Who Sticky Notes – Now which planet were we going to next? Oh, right! I think I left that info on these handy Doctor Who sticky notes! 😉 – Michelle
Star Wars Crew Socks 2-pack – I may be one of a very few amount of people who don't mind getting socks for gifts. I mean, who doesn't need socks? These Star Wars socks are awesome and I would be happy to get these in my stocking for Christmas. – Michelle
Critical Hit d20 Ice Mold – Save vs. intoxication! What better way to keep your drink cold while gaming than with a chunk of ice shaped like a d20? – Tony
Tac Bac – Tactical Canned Bacon – Oranges and apples are over and done with. Bacon is the treat people want these days, so how about bacon in a can? – Tony
Chocolate Gaming Dice Set – People love candy in their stockings, and Geeks love dice. This is a winning combination! – Tony No longer available.
Good luck to everyone in their last-minute shopping, and I hope you all stay safe and warm this weekend!
Tony & Michelle
Disclaimer – This list, like every other Christmas list posted on blogs right now, is chock-full of affiliate links for  Amazon, which will hopefully slowly earn us enough money to live the life of Bruce Wayne or Tony Stark, but in reality might buy us domain name renewal and a beer. Thank you for your support!