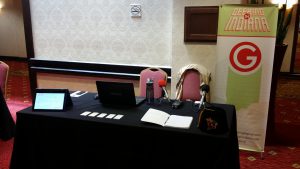 So, I'm sitting here wondering, "Should I do another 'soapbox' blog post, about something Geeks are doing that is sticking in my craw, or should I do something else?" And then, thank the Maker, I received an email from Indy PopCon, and I decided to write about something happier, instead!
That's right, I'm writing more about Indy PopCon!
I blame the scotch.
So, today, as there are 23 more days until the convention, I'm really starting to get psyched. First, after I left to visit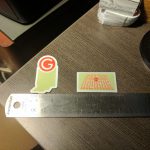 the Geekling on Friday, I received a package from Sticker Mule. It was my Geeking in Indiana Stickers! These guys are little, which means they won't take up too much space on your laptop, or where ever else you want to put them, and they come in the two styles shown! These are the first pieces of merchandise I've ever had made with the Geeking in Indiana logo on it, and I'm loving the hell out of it. They're tiny, but awesome, which is how I like to think of this blog.
Next up, I received an email this evening from the IPC person in charge of panels, and I found out the Awkward Twitter Mingle will be returning for it's fourth year! It's a tradition as old as Indy PopCon itself! In the past, it's been a great reason to get away from the crowds on the floor for a bit, see old friends, and maybe make a new friend or three! It's especially awkward when people come in, thinking it has something to do with the YouTubers, and they get disappointed with it's just me up there. "Who's the old guy?" So, if you want to be there, let me know on the Facebook Event Page, linked here!
Finally, as I've said before, and I'll be reminding you of again, I will have a table in Internet Alley, with the rest of the bloggers and podcasters and other folks that battle for your online time and your reblogs and your upvotes and all that fun stuff. I will have a limited amount of merchandise available, as I try to start paying off the convention table, and I am also looking into doing a small fundraiser for the Exotic Animal Rescue and Pet Sanctuary, or EARPS, here in Indy. I'm trying to get some answers as to whether or not my idea can be pulled off (it's simple, I just want to see if it's allowed), but if I can, make sure you bring some of your folding money, as well as loose change, because that's what I'll be collecting!
I'm really looking forward to this year! It'll be my first year tabling at the show, and I'm throwing myself into that, wholeheartedly! I'm planning on cribbing an idea from the guys at the Obsessive Viewer Podcast, and grabbing some audio to edit together for a post-PopCon podcast (no, I'm not doing the podcast stage), I'm looking forward to seeing many friends, as well as folks I talk to on social media who I never seem to connect with in the wild at a con, and maybe, just maybe, sell some stuff with the logo on it, that might start finding it's way out into the wild (just please, no stickers stuck anywhere in the convention center! Defacing property is bad, kids!).
As we get closer, I'll have a booth number, and more information on what I'll have available, and hopefully final word on my silly little fundraiser.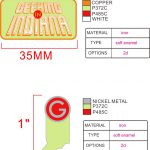 Have a good one, folks!
Tony