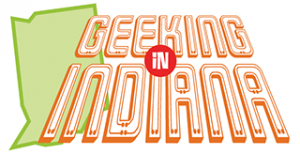 Unless you really care about achieving goals, and boring blog stuff, turn back now. I won't be offended. Take a look at some of the Friendly Local Shop posts, or the past episodes of the Indiana Geeking Podcast, instead. I'll understand. The reason is that today, we're going to take a look at some of the goals I've set for myself for 2017, and see how I've done now that the first quarter of the year is over. No, this wasn't the planned post for today, but I'll touch on that in a little bit. So, let's pull up some old blog posts, look over what I planned, and what I need to work on the next few months.
On January 5th, I wrote about plans for the Indiana Geeking YouTube channel, that's been gathering dust. So far, this year, I have done one video, for my Patrons. Using that as a base, and going off of suggestions, that was going to be the basis for part of the channel, because it was stupid, it was fun, and it was kinda short, so it let me get my feet wet. I had started picking up on Adobe Creative Cloud and Adobe Premiere Pro, I had Lizz helping with shooting the video, and then this week? Premiere Pro stopped recognizing the video I was importing as a video, and I've been digging deep in the Google search results to find the answers. So, until I get that figured out, YouTube is on hold.
Oh, and the puppet? It's still sitting in the same pieces it was in when I wrote this post back on February 2nd. I just get really anxious when I'm starting something new, and find ways to procrastinate (like, putting 6 hours into figuring out why Adobe isn't working). However, "Puppet" is on the calendar for this weekend, as a project I need to work on. So, by the end of the weekend, I will have a rough draft of the puppet completed, so I can take a look, figure out what needs tweaked, do another rough with the tweaks, and then do the final puppet. Bless Lizz, she will not let me set this aside, so if you see me with a finished project, know that it's all her!
Friendly Local Shop Friday Plans
Back on January 13th, I set the goal to have fifty new shop posts up by the end of 2017, either writing about new shops, or updating blog posts on shops I haven't visited in six years. Well, I'm not currently on track with this. I currently have ten new and updated posts up on the Friendly Local Shop page, and I know I've had to skip at least one week, and I'll be skipping tomorrow as well, because of time. However, this is still a very important aspect of Geeking in Indiana, at least in my mind, and I'm going to keep going out when I can, visiting shops and telling you about them, but it's difficult when every month, there is a new one opening in Indianapolis! This doesn't count all of the shops outside of Indianapolis (remember, I am Geeking in Indiana, after all!) that I need to get to, so I have my work cut out for me.
To be honest, this is currently dropped as any form of focus from the blog. Building, making, costuming, prop building, whatever you want to refer to it as, is expensive. As this is something that I don't ever expect the blog to pay for, it takes my personal funds to get supplies, kits, and pieces to be able to build stuff. Due to medical expenses, and other things I really want to do and am saving money for, this has taken a back seat in my life. Therefor, while the posts still exist, the pages that aggregate those posts have been mothballed until such time as I have the money to continue building things that aren't a puppet, or my credit score.
Overall, I feel like I'm on the right track. We aren't even going to talk about the podcast, of which I've done two episodes this year. I feel like I'm behind on that, but I'm also admitting to myself I'm a blogger with a podcast, not a podcaster, and I'm okay with that. Over the next three months, I'm going to be working on that, as well as adding the YouTube channel (when I figure out what's up with Premiere Pro!), and just keeping up with new content on Monday through Friday. This is also the time period where conventions are getting ready to start up, and I'm starting to get moving on tabling at a few this summer. Plus, Lizz will be joining me at Gen Con (me on a press badge, her with a badge she won), and we're going to start looking at how to really get some good content this year, as opposed to just a brief rundown post as I've done in previous years.
Folks, I'm tired, I'm worn out, but it's not because of the blog. I love this, I love you all, and I thank you all for sticking with me! Here's to another three months of, if not growth, at least steady movement forward!
Tony