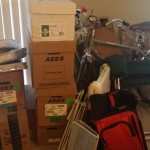 Tomorrow, I'm handing off all of my worldly possessions to a couple of strangers with a big truck, and trusting them to haul them from 96th and Keystone to Irvington, where they will unload them, and I will figure out how to fill a 4 bedroom house with a 1 bedroom apartment's worth of stuff, without it looking completely vacant. Now, this isn't something that needs to be completely done in one fell swoop, as I'm planning on being there for a little bit, as long as that's okay with my landlady (who very well might be reading this!). However, other than shelving and storage from Ikea, how does one properly outfit a Geek Cave?
Well, in the past, I've done various shopping lists, which I really need to take a look at, and trim out anything that isn't good any more. Anyway, that's not what's on my mind right now. Instead, I'm looking at things I think would be cool in your general Geeky abode, and what better way to show those items than buy using affiliate links for Amazon, because the blog has bills to pay, and with the move, Tony can't throw personal funds into the blog funds!
Now, in the new Geek Cave, when you walk in the front door, you walk into the living room. Traditionally, I've tried to keep the living room fairly "Geek Neutral", but I'm just going to own it this time around. First, there is an awesome set of pillows that would go great on the couch and love seat, along with my Tardis pillow. They are made to look like original series Star Trek uniforms, and they're simply outstanding! You can get them in either Gold, Blue, or Red! Also, for winter evenings, as I'm working my way through Star Trek on Netflix in front of the fire (Yes, did I mention I have a fireplace in the new Geek Cave? AWESOME!), a nice throw blanket would be outstanding, and what better way to stay warm than by curling up in a Tardis Throw Blanket, which is supposed to be warmer on the inside! There is also a new "distressed" version that I'm preferring, but there's no affiliate link for that one. 😉 Finally, to set the tone right as you move in, as well as protecting the new carpet (!) they're putting in for me, I'm thinking a Millennium Falcon rug would work great!
Turning the corner from the living room and you enter the dining room. The dining room is a place of food, of fellowship, and home to a table large enough to hold most board games! Whether it's a simple, fun game of Batman Fluxx, getting a playmat and having space battles with either Star Wars: X-Wing Miniatures or Star Wars: Armada, or spreading out a game like Shadows of Brimstone, I should have room for guests to play and have fun! I'm not really looking past there to do anything truly Geeky, just making it a simple, happy room for friends to eat and have fun in.
Off of here splits the master bedroom and the kitchen. I try to keep a bedroom simple, as that's just where I sleep, and the kitchen? There has been articles written about the kitchen, and kitchen tools, before.
Heading upstairs, we'll have a storage room (for items my friend has left in the house), a bathroom, a guest room (for when the Geekling visits!) and then the office. Yes, I am getting an office again, which is going to be strictly "Indiana Geeking" headquarters. I'm going to have my blogging equipment, my podcasting equipment, and my video editing equipment all set up, as well as a section where I'm going to learn how to sew.
Yeah, this is a fairly large room.
I'm probably going to be spending a lot of time in here, so very important will be a fridge filled with cold beverages for myself, and any podcast guests that might come over to record. The Han Solo Fridge from Think Geek looks like it would fill that slot, nicely! I'm also looking to update my recording setup, to improve sound quality, get rid of some of the echo when multiple people are recording, and just generally kick the podcast up another notch. While I need to do some research on particulars (and yes, friends, I know I can just ask you, but remember: Learning experience), I'm thinking I'm going to put some foam on the walls to help with sound absorption, and get a couple of Blue Yeti microphones, with stands and pop filters. Part of my work in there will be on paper, and not digital, so I'm going to need a good waste bin. Now, while I could get a simple bin at Target, instead I'm talking about my hopes and dreams, here, right? In that case, I do believe an R2D2 Trash Can would be simply awesome to have by the desk. Other than that, it's art prints, a giant white board for planning, and a big planning calendar.
I'm really looking forward to getting into the new Geek Cave, and being able to spread out a bit after being stuffed into a small apartment for the last year. What do you think a Geek Cave needs? Give me a shout in the comments!
Tony