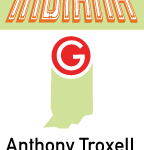 Yeah, it's time for one of these posts, again. It's not often I get up on the soapbox, so to speak, but after some recent comments being made on some blog posts, I wanted to take today to put down some thoughts, and make a few things clear.
First, back in 2014, I did a "Welcome to Geeking in Indiana" post. Some things have changed since that post was written, but one piece still remains part of my philosophy when it comes to what gets posted to this site, both in terms of content and in terms of commentary. That piece is, "If you have nothing nice to say, don't say anything at all." It's very simple: There's enough negativity on the internet. Heck, I'm occasionally responsible for some of it, despite my best efforts. However, I don't want it here. This blog's goal is to look on the bright side of things. If I've got nothing nice to say about something, I'll just leave it alone. This can be noticed on events I list on the convention listings, or on Tuesday Tidbits, and in the stores I visit for the blog. If I get something for review, and I can't find anything redeeming, I just won't review it. I just try to be positive, and I try to impress that upon Team Geeking, as well. Another place I enforce it is in the comments.
The Comments Section of a website is a tricky place. Most people know the rules, "Don't read the comments." However, there are a few people that have to do it. Social Media Managers are one, and I feel for them. Nothing brings out the scum and stupidity like the Facebook comments on an Indy Star article, and my friends who have to moderate them are better, more patient people than I. Blog writers and runners are another type that has to read the comments, and guess what I am? However, this isn't a huge blog, and I think I probably know about 70% of my steady readers, so the comments really aren't that much of a chore. However, there are still some that don't make it through, and the reason is pretty simple.
They are not nice, and they bring nothing to the conversation.
See, while I love my readers, and I'm thankful for every view I get, this is my corner of the internet, and therefore I make my own rules. One of those rules is the Golden Rule: "Do unto others as you would have others do unto you", followed closely by the rule Wil Wheaton has made into a mantra, "Don't be a dick." If you can't follow those rules, your comment will not get approved, and if you're an approved commentator, then your comment will be deleted. This goes for general comments on any of the articles posted, especially on articles posted by Team Geeking members other than myself. The only articles where something negative can be posted are my articles on individual stores, but there is a caveat to that.
Reviews in general, and store reviews in particular, are a tricky beast. They are very subjective. There are many things that can influence how I'm treated in a shop as opposed to how others are treated in a shop, and I really want to know if someone was treated any differently when they visit a shop where I had a good experience. However, "this shop sux" is not the way to comment on it, and those comments will be removed. If you're going to talk about a place, a comment along the lines of"The shop is very cliquish and I was ignored, the bathroom doesn't look like it's been cleaned since the Bush administration, and the whole place reeks of cat urine" is quite all right, provided it's true.
All I'm asking is for my commenters to show some respect and courtesy to the writers of this blog. If you can't do that, well, don't expect anybody other than me to see your comments, and let's face it: I've worked in customer service for over 20 years, including jobs in retail, in a theme park, and in a call center. I've dealt with worse than you can dish out.
Keep being cool, friends.
Tony