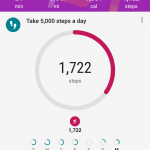 I admit it, I live a pretty unhealthy lifestyle. I work in a cubicle farm all day, planted at a desk for 8+ hours with minimal movement. When I get home, I come up to the office and I do more work on the blog, either writing, or shooting/editing video, or recording/editing audio, so I just don't move much. On average, my daily step count hovers around 3,000. My diet is… okay. We do a lot of home cooked food for dinner, and I do all right with lunch and snacking for the most part, except when I feel the need to get some donut sticks or a frosted honey bun from the work cafe. Oh, and let's ignore the whole "Tour de Fat" thing, because that's temporary. I am pushing forty, with a list of medical issues that is getting longer, and not shorter. The point I'm trying to make is, I'm not taking good care of myself, and I need to change that. While this seems weird to be posting up here, I'm going to shoot straight with you. Many of you who are steady readers of this blog are also friends of mine. You are people who see me in pain over the course of a convention weekend. You are the ones who have seen me gain forty pounds in the last few years. You are the ones I'm hoping will hold me accountable to the process.
While watching numbers drop on a scale is kinda cool (as of Monday, I was down almost ten pounds from January 1st), what I really want to do is start enjoying things in moderation, paying more attention to what I'm putting into my body, and making sure I'm burning off a good portion of it over the course of the day. There are a few ways I'm looking into doing so.
Technology
First, I'm using apps on my phone. I understand that these are not the most scientific and accurate things on the face of the planet, but they at least give me a good idea on what I'm putting in my gullet, and what I'm burning over the course of the day. I'm mainly using two applications, because they're easy, and don't take up too much time. First, I use Google Fit to keep track of my step goal. The main reason I use it? I have a Google phone, and that's what came with it! Second, I use My Fitness Pal (with Google Fit integration) to track what I'm putting in my face on a daily basis, as well as any additional exercise above and beyond the standard daily walking I do. What these apps mainly do is let me know how well I'm doing at putting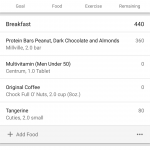 good things in my body, and how active I'm being to burn away the donut sticks I keep buying, like a sucker.
Friends
Friends who have similar goals are another resource. Over on Twitter, I have a few friends that support each other in a group DM chat, called the "Accountibilibuddies". We remind each other to get up and move during the work day, talk about how our calorie counting is going, and just generally support each other and also sometimes get way off topic. Another great support is Lizz, who is also trying to get in better shape, though she doesn't have quite as far to go as I do. She helps with making sure we're keeping mostly healthy food in the house, helps me pack those salads and healthy snacks for work, and makes sure I don't go all out when I do go out for that Tour de Fat burger (or hot dog) of the week.
Goals
For right now, my goals are simple. I've spent the first few months of 2017 trying to be better with my diet, and for the most part (Tour de Fat and donut sticks aside) I'm doing better. Now, I've got to get more active. This means I'm setting some goals, that I want to start working towards. It'll have to be slow and steady, because the last time I was at this level was in 2013, and I was 45 pounds lighter. First, I want to look at my step counter at the end of the day, and see that I've walked at least three miles. Currently, I'm walking less than a mile a day, so this means I need to get some extra steps in during lunch, before work on the treadmill, after work on the treadmill, and weekends at the park. Next, I need to start doing push ups again. I was up to 100 a day a few years ago, which doesn't seem like a ton when you have people that can do 100 in one set, but for me was a pretty big deal. Now? I can barely do ten a day. I know this because I've already started working on this again. This is only two things, but I need to take baby steps, or else I'm going to get frustrated and quit everything.
So, here we are, about 850 words into talking about personal goals. However, if I don't get this out there, and if I don't have it where I can see it and know others are seeing it, I'll be really bad shape in just a few more years, and I really don't want that. So, here we are.
Wish me luck.