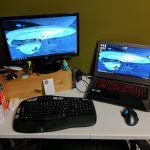 While I have been putzing around with personal websites since at least 1997, I've been actively blogging since 2010. I started with Geeking in SoCal (rest in peace) which helped pass the time while I was pounding the pavement in Pasadena, looking for work in early '10. When I moved back home to Indiana, I started up this blog, which has gone through a few different incarnations (I think the current version could be considered 4.0?), and I also ran a personal blog on Blogger for a while, but I am not going to link that anywhere. I'm sure you can find it, but I'm not just handing it off to you! Anyway, while I'm not one of the more prolific or well known bloggers out there, by any stretch of the imagination, I've still had a few years of trial and error, as well as trying different items to make my life easier, so I wanted to have something here on the blog talking about that, for anyone who's curious.
First things first, I'm going to start with what I'm doing and using now, and then I'll move backward in a future post, if there's any interest in what was used to get me started. As I said, I'm still very much new and learning, but I'm getting better, and that means that sometimes I'm using better equipment. Sometimes, it means I'm using equipment "wrong", or I'm using a straight slot screwdriver when I should be using a Phillips head. Either way, it should start a good conversation, and give some good ideas on what you might want to use. Please note that, since the bills are ever coming at me, if you see an Amazon link, it's an affiliate link. However, that link goes to what I actually use, so you know I'm not just trying to beg for pennies by putting something random up. Instead, I'm begging for pennies by showing you what I actually use!
The Blog
As you all can already tell, Geeking in Indiana is built on WordPress, thanks to the fine folks at Studio 27 Indy. They keep the blog up and running, so I can add content for you all. I do most of my writing directly in the browser, saving the drafts often just in case something happens. On occasion, I'll fire up Microsoft Word and write a blog post in there, which I'll save and then copy and past into the browser. A majority of the writing is done in the office in the Geek Cave, where I'm working with an ASUS ROG G752, which is part of their "Republic of Gamers" series. To be bluntly honest, for the blog? This laptop is overkill. I can do just as much for the blog itself on my cheap 32GB Acer Aspire that was a gift, and many times I do. The Acer Aspire has a touch screen, it's smaller, it has a good battery life, and it's light enough to carry around. However, that little laptop only has 32 GB of on board memory, and I'm not able to upgrade it, so it's good for solely writing, and occasionally transferring a picture from a thumb drive to a blog post. So, I purchased this ASUS, which is hopefully not going to die on me any time soon, can easily be upgraded, and is able to handle the Adobe Creative Suite, which I'm slowly starting to learn.
It's currently set up with a second monitor (from my old desktop), but I'm looking to set up a two monitor stand to work with the laptop, so I can keep TweetDeck running on one, and work on the other two. I mean, I'm going to keep being distracted no matter what, so I might as well save myself the time from switching tabs on the main monitor! Also, for those who care, I use a Logitch Keyboard and Trackball, but we might be going a bit too deep in the "tools" there, don't you think?
Also set up in the office is a simple microphone stand, microphone (not pictured), and pop filter (not pictured), which run into the laptop via USB. This is what I use for podcasting. If it's solo, the microphone records directly into Audacity, and I'm going to start experimenting with Zencastr this week for recording over the internet. Since this is a new setup, I have yet to completely test the audio quality, so this might be changing in the near future. When the podcast starts coming out, I guess we'll all see how good it sounds!
Once I figure out what I'm doing, I'll let everyone know how I'm recording YouTube videos. Here's a hint, though: I just own a phone. Also, once it gets closer, I'll let people know what's in my convention kit for 2017, and as I get things around, I'll let you know what I'm planning to use for my tables.
Do you have any questions? Give me a shout in the comments, or drop me a line. As I said, I'm not an expert, but I've messed up enough times, that hopefully I can give you advice based on my mistakes!
Tony