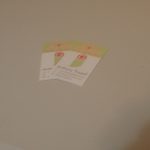 Geeking in Indiana is a blog. It is something I started for fun, back in 2010, to kill time. Little did I know that, through this, I would have personally written around 630 (active) posts, had a site that's been referenced in local media, have a fledgling YouTube channel, and a sporadic podcast. This is not to mention the friends I have made, the conventions I've attended, and the shows I've seen, all in the name of Geeking. Now, I'm getting ready to do something else new, that I never thought I'd be doing at a show.
I'm hosting a fan table.
I mean, tabling is for people who actually do stuff! Vendors, artists, writers, real podcasters and blogger types! Yet, here I am, figuring out what I'm going to be doing for InConJunction in just under a month, and perhaps at Teen Con in New Castle just a few weeks later.
So, I've got a table. I've got business cards. I've got a laptop computer. I've got a cell phone. I've got a digital recorder and a couple of microphones. I've got me, in a fez, and perhaps a kilt. That's about it. So, what should I do?
First, taking what I've got, I'm planning on passing out business cards, printing up and passing out my info sheet concerning resources on how to start a blog, interviewing anyone who wants to talk about the con, or themselves, or their costume, or their anything, and see if I can edit a podcast or three. I've looked into Mail Chimp, and I'm thinking about doing a weekly email to everyone who wants one, kind of a week in review sorta thing, kinda like what Pure Geekery does. I'm also just going to be me. Talking to people, getting to know folks, seeing old friends, that sort of thing.
This is what I can do, with what I have.
Now, things I would LOVE to do, and will start looking into if these turn out to be worthwhile? This is something totally different. First, stickers. I think I can get 100 Geeking in Indiana stickers through Sticker Mule for about $70. It might be a bit less, this is just on a casual glance. I just would like to pass out stickers to anyone who wants to stick Geeking in Indiana on their laptop case. Next, and this is something I might just be able to do, I'd get a big bowl of candy and fill it with regular old Hershey Kisses. No nuts, no mix, just good Hershey Kisses. Why? Because they're tasty. I also guess, sometime in here, I should look into t-shirts, perhaps some sportsball-style jerseys for Team Geeking members, and maybe some merch to try to sell. Perhaps sometime in here, I can have a giveaway? I'm not sure what I'd give away, but I think that would be keen! However, this is just random thoughts, and it will be far down the line.
Anyway, to wrap up, here's what I'm thinking a "Geeking in Indiana" con booth will have next month:
A fez
Business Cards
Digital Recorder and Microphones
A kilt
Info sheets on how to start blogging
Email list signup sheet
A bowl full of Hershey Kisses
Batteries
Me
Hopefully it won't look as barren as the table in this post's picture!
So, what else would you expect from this kind of table? You know, I'm all about using other's ideas as my own crowdsourcing ideas from my readers, so what do you think? Give me a shout in the comments, and let's keep it reasonable! Remember, I haven't cashed out from Amazon in months, and I'm not made of money!
Tony