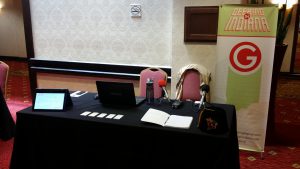 One of my favorite things to do is hit local conventions. Over the past six years, I've had the pleasure of meeting a lot of great folks at cons across central Indiana, and just this last year, I had the opportunity to table at my first conventions, something I had always thought would be pointless for the blog. However, it turned out to be a lot of fun, and I'm glad both InConJunction and TeenCon gave me the opportunity to do so. In 2016, great conventions like Indy PopCon and Gen Con were also kind enough to give myself, as well as other members of Team Geeking press badges, and we also gave money to local shows like KokomoCon, Indiana Toy & Comic Expo, and Midwest Toy Fest, and wished we had money to throw to Who's Yer Con, yet were still fortunate enough to enjoy the show due to it having free admission. However, one thing I've noticed about conventions is, f it's very difficult for me to function when one is over. At Indy PopCon, I actually had to leave early on Sunday, due to issues with my feet, and a pinched nerve in my shoulder from carrying a backpack (on BOTH shoulders!) around with my podcast equipment inside. I have traditionally needed to take the Monday after Gen Con off not to deal with con crud, but to deal with the overwhelming pain from not walking, but standing on the floors in the convention center for hours. Even one day shows are beating me up, if I spend more time standing in one spot than I do meandering around. This is causing me to take a look at my approach to conventions, moving into 2017.
The first thing I'm looking at is tabling at some of the conventions I attend. InConJunction, especially, showed me how much fun having a table can be. It's a central location, so my friends can easily find me. I don't have to carry things around. Plus, I get to sit down most of the day, instead of standing around! With this in mind, we are starting to budget convention tables in for 2017, primarily for Indy PopCon, in Internet Alley. I am also hoping to have tables at InConJunction and Starbase Indy this year, and I've already been offered a table at the 2017 TeenCon in New Castle, my home town. The tables will give me the opportunity to record podcast audio without carrying around equipment, display my banner, and maybe even grab some video for YouTube. Who knows, I might even have a puppet on display by PopCon? I'm also hoping to do some more Awkward Twitter Mingles, because those are just great opportunities to meet people, or just hang out.
Another goal for 2017 conventions is to complete one of my Star Wars costumes to the standards of the Rebel Legion, and be able to join Star Wars Indiana at for a few table shifts at the smaller shows like KokomoCon, Indiana Toy & Comic, and Midwest Toy Fest. In the past 15 years, I've only done a handful of events in costume, and I want to change that for this year. My first focus is the Rebel Fleet Trooper, and then I'll be moving on from there.
Finally, I want to try to hit conventions outside of central Indiana. This is very difficult, because there is drive time, gas money, food money, and of course, the convention admission that has to be covered. However, I hear good things of some of the conventions in Evansville, and I know NWI Comic Con is supposed to be a lot of fun, as well. So, I am looking into the possibility of doing some travelling over the course of 2017 to hit some of the conventions outside of Indianapolis, yet still inside Hoosier borders.
Yeah, this means no C2E2 or Star Wars Celebration, which I'm okay with.
2017 is going to be a great convention year, full of friends, fun, and empty bank accounts, and I'm looking to try to make it one of my best convention seasons yet. If you haven't yet, take a look at the 2017 Convention Listing at the right side of the page, and try to find some local shows you might be interested in!
Go out, have fun, and remember to be kind to your fellow Geeks! I'll see you at the shows!
Tony