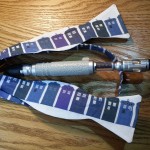 You might remember, a month ago, when I posted a press release for the new Geeky Pleasures online store. I will admit, this falls a bit out of my "jurisdiction", if you will, as Jules, the owner of Geeky Pleasures, is a neighbor up in the Great White North. However, sometimes one must admit that Geeky awesomeness knows no borders, and one uses whatever abilities they have to help support those who have been friendly and supportive to them, no matter what state, or country, they are in.
For those who are not aware, Geeky Pleasures is a new online store for Geeks. Jules Sherred uses this site to sell handcrafted items like bow ties, dice bags, coin purses, tablet and phone covers, and more. All of these items are made out of Geeky fabrics, including comic book prints, Doctor Who, Star Wars, and Star Trek. Everything looks really great, so when he put the call out for bloggers who were willing to review his work, I jumped on the chance to get a TARDIS Ship Bow Tie.
There is part of me that thinks this review post should be really short, essentially stating:
This bow tie is awesome!!!
Buy all the bow ties!!!
If everything else is this awesome, you shall be pleased!!!
However, I am attempting to be a professional, so let's go a little more into why I think this tie, and by extension, everything at Geeky Pleasures is worth your hard earned coin.
Now, when it comes to this bow tie, it's well made. It is made of a stiffer fabric, which took me a few minutes to get used to tying, because I'm too used to the cheap bow ties I pick up at Kohls. This tie is not going to start fraying at the end of an evening, like the last tie I got from them. They are also made to size, so if you're used to adjustable bow ties, make sure you know what size you wear! The tie was worn to work, and it received many compliments, and has kept the knot well throughout the day. I thank Jules very much for the awesome tie, and look forward to wearing it at upcoming Geeking appearances!
Do you like this tie? Have you looked at the Geeky Pleasures Website and are you going, "Gee willikers, Tony! There's a lot of neat stuff there! I wish I had the money to buy something!" Well, guess what! Thanks to Geeky Pleasures, and the "And the Winner Is…" plugin by Spencer Sokol at Studio 27 Indy, you have the chance to win….
A $50 Geeky Pleasures Gift Card!
So, how will this work?
Visit the Geeky Pleasures Website and check out all of the cool stuff.
Return to this thread and post a comment telling me what you like most on the site!

Make sure the comment has a valid e-mail address!

Make sure you do this by 12:01 AM Eastern Time on Monday, March 16th, 2015
Sit back, and wait to see if you win!
What will happen is "And the Winner Is…" will electronically take all of the comments, put them in a virtual hat (I hope it's a fez!), and pull out a winner's name. Then, I will email that winner, and they will have 24 hours to confirm that they are real. After confirmation, I will post the winner on Twitter and Facebook, and email their information to Geeky Pleasures, who will in turn give you a gift code for $50 towards the store. Please, only one entry per person, folks. I reserve the right to remove any comments from the contest that are multiples, or have nothing to do with the contest, in order to give everyone a fair chance. In the event the plug in fails, I will write down all of the names, put them in a fez, and have a co-worker pull a name out for me. Either way, this will be fair and cool!
So what do you want from the shop?
Update: At 12:05 AM, I turned off commenting and used the application to draw the name. After receiving a response, I'd like to congratulate  "Kotor21" for winning the gift card! Jules has your information, and your gift card should be on it's way to your inbox soon!
Thanks to everybody that entered, and now that I know that I can do this, look for giveaways again, soon!
Tony
Note: The TARDIS Ship Bow Tie was provided to Geeking in Indiana, for free, for review purposes. All thoughts concerning the tie, however, are my own. Geeky Pleasures also graciously offered the gift card as a prize to Geeking in Indiana readers who are interested in his wares, and the winner will receive the card directly from them. Good luck!