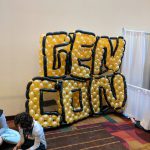 Gen Con 50 has come and went, and left in its wake are empty bank accounts, sore feet, and hopefully a lot of great memories. This year was one of the biggest years ever for the show, which has been in Indianapolis since 2003, with the first ever sellout of badges (targeting "an approximate attendance of 60,000 unique attendees," according to their press release), and a turn-style attendance of 207,979 (an increase over 201,852 from 2016). In addition, over $26,000 was raised by Gen Con for their local charity partner, Child Advocates. All in all, it was a fantastic weekend for the convention, and for Indianapolis. Yet, how was it for the Geek?
Well, Lizz and I went Thursday through Saturday. This wasn't my first rodeo, but it was Lizz's first Gen Con, and while she hasn't contributed any thoughts to this post (fall term at IUPUI has started), she will have an interview on Friday's podcast, and I'm hoping to get her thoughts on the show for that podcast, as well. However, I THINK she enjoyed herself, because she said she wants to do it again next year! Our schedule was kind of full, but not pressed: Thursday, we got our passes and event tickets, meandered around the hall, checked out Lucas Oil, grabbed some food, and saw They Might Be Giants. Friday was kicked off with interviews (see Friday's podcast) and more shopping, playing the only game we had a chance to demo, and an attempt to see Five Year Mission vs. The Yavin 4 at Scotty's Brewhouse. Saturday was more meandering, catching the shows put on by The Shake Ups, and then meeting a bunch of friends for dinner at The Ram. Sunday? Without interviews to chase down, and with classes for Lizz starting on Monday, Sunday involved sleeping in a bit, dropping off some books to my parents, and relaxing our sore feet!
Now, this was the fiftieth Gen Con, and the big news was the sell out of all badges, from the single day badges, all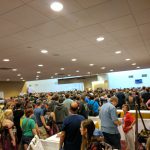 the way up to the four day badges. This caused a bit of concern, especially for us, because neither of us are fans of large groups of people. However, by all appearances, Gen Con didn't use "sell out" to mean "sell the maximum amount of badges we can." Instead, it meant that they cut off badge sales before the levels at the con became unbearably large, and it would be a miserable experience for attendees, like a sell-out day at Disneyland can be. Instead, every day I went felt like a Saturday, in terms of crowds, where it was crowded, but with just a little bit of patience, you could get where you wanted to go, and see what you wanted to see. One thing that really helped out with that was the inclusion of Lucas Oil Stadium in the festivities.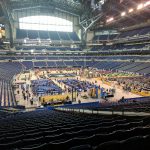 Lucas Oil Stadium had a cool set up. Not only was there gaming to be had on the floor, but they had an exhibit showing off items, and talking about, Gen Con's history. They had Magic cards, they had old war games, they had old Dungeons and Dragons books. They had a display that showed you the amount of floor space the first ever Gen Con took up. They had a creature from True Dungeon. They had games that had been crowdsourced. It was not just an evolution of Gen Con, it was an evolution of gaming, as a whole. It was a really cool exhibit, and I wish I had taken the time to look at more of it, and grab more pictures (it was very crowded when we were there), but we never made it back down after Thursday.
Most of our show was spent on the Dealer's Room floor, looking around at games, costume pieces, chasing down interviews, and talking with friends. We, sadly, didn't actually play much, just a round of "Go Nuts for Donuts", which we enjoyed, and we still had a good time. For those who were curious, I did manage to pick up everything on my "Wish List", including the fez, Star Trek Adventures, and dice. From the sounds of it, it was a good thing I picked up my Gen Con 50 dice set from Crystal Caste early, because I heard they went quick! I also picked up a couple sets of Chessex dice, to start rebuilding my collection, as I'm getting pulled back in role playing games this fall. The remainder of the show was spent doing a few events, mainly the They Might Be Giants show on Thursday, and the two shows from The Shake Ups on Saturday.
This was my first time actually seeing They Might Be Giants live. I've loved their music since I discovered them on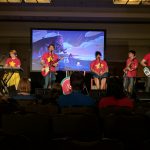 Tiny Toons, and by listening to Dr. Demento, but I've never had the opportunity to see a live show due to not being old enough (when I was REALLY into them, I hadn't yet turned 21, and they'd play at the Vogue in Indianapolis), or due to schedule conflicts. This show definitely did not disappoint, with a good mix of songs from almost all of their albums (the "Hot Dog Song" from Mickey Mouse Clubhouse was, sadly, absent), and they had good banter and interaction on stage. It was a fun show, and well worth the walk down to Bankers Life Fieldhouse. The Shake Ups did two, back-to-back shows on Saturday, first doing their My Little Pony: Friendship is Magic set as The Shake Ups in Ponyville, and then doing their Steven Universe set as The Shake Ups in Beach City. My friends, if you have never caught these folks live, you are missing out. They are talented, they are fun, they are positive, and they are local! The Geekling loves their music, I love their music, and I am humbled (and the Geekling is in awe) to consider them friends, as well as being one of their fans.
A couple other tidbits about the weekend:
We used Uber on Thursday, because there were no available Blue Indy cars at our hotel, then I was in so much pain Thursday night I couldn't walk to a Blue Indy station. Round trip using Uber was $42.84, plus tips because we had great drivers both ways. However, on Friday and Saturday, we were able to use Blue Indy to get back and forth. Not counting yearly membership ($35.01 for student), I got charged $17.03 for those trips. Your experience may vary, but dang, that's a fairly remarkable difference.
We were able to score four of the five interviews we had scheduled at the convention. These will be put out on Friday, September 1st. I'm not going to call out the person who just completely and utterly ignored me to talk to someone else during my missing interview time slot, but needless to say, I'm not too concerned about trying to talk to them in the near future. Yeah, I hold grudges. It's a personal failing.
Over the weekend, we had great food experiences at Noodles & Co, the Palomino, and The Ram. Despite the crowds, the wait staff was working hard, and friendly. We did not have a great experience at Scotty's Brewhouse, and you might have seen me ranting about it on Twitter during the show on Friday night. Speaking of grudges, I have deleted their app from my phone, and I am not planning on heading back to any of their locations any time soon. I'm tired of social media "apologies" concerning poor service, cold food, and poor experiences, without any actual action to fix the issue. So, I'm done. Once again, though, your mileage may vary.
All in all, it was a great weekend with a few thousand fellow Geeks and Nerds, and I'm looking forward to Gen Con 51!
See you all next year!
Tony
Note: As has been the habit over the last few years, Geeking in Indiana was provided a press badge for this event, for purposes of attending, and covering it, for this blog. While a badge is provided, all opinions of the event are my own. If I wasn't given a badge, I would have just purchased one to be able to write about the same stuff, anyway! This badge just gets me able to do interviews with game designers more easily!