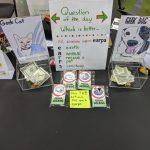 It started back in late 2013 as an announcement, and AMA on Reddit, and a public forum discussing their plans. Since that time, Indy PopCon has grown into a convention that many Geeks look forward to every year, not just here in Indiana but from all over. Indy PopCon fishes for guests with a wide net, bringing in not only stars from television and film, but voice actors from cartoons and video games, YouTube creators, artists, and other types of creatives. They have an Internet Alley where local content creators can meet the people that follow their exploits on the 'net, their Artist Alley is a mix of fan art and original content, and there are Funko Pops as far as the eye can see! Geeking in Indiana has been there every year, the first three years covering the show as press, and then sliding over as an addition to Internet Alley. This year was no different!
Sadly, I didn't have a chance to get around to much of the con, as I was at the table most of the time, except for when I wasn't. Grant couldn't make it at all this year, and I'm not sure if Lizz is up to writing about her experiences. If she is, that'll be up next week. However, the booth was a good place to be. I was between some great people, in a section filled with more great people. I had a good reception to the new Geek Cat and Geek Dog pins (now available in the Geek Shop!), I sold a couple more fidget spinners and older pins, and generally didn't kill my ankles like I did when I was wandering around as press. I did do some wandering around, though!
First, Friday was a full day. After setting up the booth, I ran over to our first panel, which was the Star Trek Discourse panel. Playing to an almost empty room was much like when we recorded to an almost non-existent audience on Facebook Live, so we were all in our element. After a quick drop back to the booth, I then headed over to the Podcast Stage, where I sat with Pat and Tyler to record their live Indy PopCon episode of "The Nerds You're Looking For" podcast! You can find the episode here, and we talked about my history in Hollywood and at DisneyLand, Pat-Attack was actually quiet for a bit, and they went on a tangent about Avengers and Star Wars. It was a lot of fun, and I really appreciate them approaching me to be on their episode! After some more time at the table, Friday wrapped up with a fun panel with Rachel of the Five-ish Fangirls, talking about beginning podcasting and blogging for kids. While we only had one youngster in attendance, we were able to give that one our full attention and answer his specific questions about the medium, the equipment, and everything.
Saturday was mostly spent at the table, though I was able to wander around a bit, and pick up some items from friends! Some of those include:
This was, of course, followed up by more booth time, and wrapped up with the Awkward Twitter Mingle, and dinner with old friends and new. First off, I'd like to give a huge shout out to Mark "MadMup" Zwolanek, who ran the Twitter account on the projector, as well as Ginger, Bri, and later the Circle City Ghostbusters for heckling me from the stage. These are always fun, and this year was probably the most organized yet!
Sunday, as it was pouring rain, we took it easy. I did a bit more wandering, picked up "The Gwythienian" by aforementioned new friend Savannah J. Goins, a local fantasy author, and then took down the booth when it was time to shut down. We then headed home, and started digging deeper into our charity stuff.
If you remember, we were looking to raise money for the Exotic Animal Rescue and Pet Sanctuary, or EARPS. We had voting boxes on the table to take donations, and $2 from each Geek Dog and Geek Cat pin sold (or donated) went to them. Here's how everything broke down:
Friday voting: Fez vs. Bowler Hat! Fez = $3.85, Bowler = $8.73 BOWLER HAT WON!
Saturday voting: Geek Dog vs. Geek Cat! Geek Dog = $13.00, Geek Cat = $15.00 GEEK CAT WON!
Sunday voting: Geek Dog vs. Geek Cat, again! Geek Dog = $21.82, Geek Cat = $3.40 GEEK DOG WON!

Note: I was going to switch to Pinapple on Pizza: Yes or No on Sunday, but the Dog/Cat got such a positive reaction, I went with the "Let's pull in as much as we can for charity" route, and stuck with them!

Pins: $66 raised in pins!
Total: $131.80 raised, and on Monday night, we sent $135 to EARPS! That is $100 more than 2017! Thank you all for your help!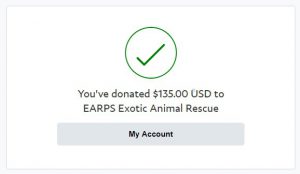 Indy PopCon 2018 was a good year for us, and I hope it was a good year for everyone else! I mean, sure, I didn't get many pictures, nor did I meet any celebrities, nor did I get any autographs, but that's not what the convention experience is for me. I did see a lot of friends, and I introduced some new people to the blog, so I'm good. I'm not quite sure what we'll have to look forward to in 2019 right now. I know for certain that we'll have a new round of Geek Animal pins, most definitely the Geek Rats, seeing how they're from EARPS and all, but who knows what else we'll have?
See you all next week!
Tony