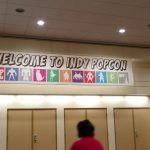 When you really enjoy a convention, it's sometimes hard to put into words exactly why. This is especially true about a show I have helped cover and support since it was announced back in 2014. Yet, here I am, trying to put into words exactly why I enjoy our home grown show, Indy PopCon.
First, it's the panels. Normally, at a show, I'm too busy walking and talking to attend many panels, but this time around, I had a few that I really wanted to hit, or felt rather obligated to hit, as I was running them. First up was the Awkward Twitter Mingle, on Friday evening. This was a well attended event, with a lot of people I knew, and a few I met for the first time! There were a few people that hung towards the back, and didn't really participate, but I just figured they were the "What the heck is an Awkward Twitter Mingle?" crowd, and I wasn't going to force anyone to do something they didn't want to do.
On Saturday, my "must attend" panel was the Joan of Dark panel. Joan of Dark is a founding member of the Naptown Roller Girls, the owner of Strange Brew Coffee House in Greenwood, and the author of some awesome knitting books! We've talked on social media for a few years, ever since we were both featured in an Indy Star bit about Gen Con, but we had never met until this panel. She is a wonderfully friendly person, who has some great stories to tell! I'm hoping to get the chance to sit and speak with her more in the future!
Sunday started with a show by The Shake Ups in Ponyville. I speak very highly of this band, because despite not being a huge fan of My Little Pony: Friendship is Magic, I find their music very catchy. It is family friendly, very accessible, and the band members are very good musicians, as well, which helps tie everything together. I strongly recommend any of their shows, if you have the chance to catch them! However, panels aren't the only thing I did at IPC.
The Vendor Hall area of Indy Pop Con was the main hub. This was where you could find all of your dealers, your artists, your YouTubers and podcasters, your cosplayers, pretty much everybody. This is also where I saw all my my friends, which is why I LOVE local conventions. I really enjoy walking through the vendor hall, checking out the latest pieces from my talented friends, talking to the members of the 501st and Rebel Legion, looking for cool toys and collectibles, and waiting 5 minutes for cosplayers who are blocking the aisle to get their picture taken.
Seriously, stop doing that. If someone wants to take your picture, ask them to move to the side, and don't just drop your bags in the middle of the aisle and pose. Seriously, it brought great joy to my dark little heart to see a local creator who was trying to get to a panel shove through the middle of a group picture as politely as he could.
Anyway, some of the highlights, other than seeing friends, included tracking down Undertale items for the Geekling, watching Lizz look around at all the booths, recording a quick bit with the great folks at the Obsessive Viewer Podcast (click here for the episode!), and introducing Lizz to the wonders that is Star Wars costuming and the community that surrounds it.
Sadly, this year, I didn't get any interviews. In the lasting tradition of "Tony injuring himself at a convention," I left on Saturday with (what I think is) a pinched nerve in my left shoulder, which has made it very uncomfortable to sit up, to type, or really do much of anything for the last few weeks, and it was so bad I cut out early on Sunday, instead of staying to close the convention down. While this is in NO WAY the fault of the convention, it has made me consider how I'm going to provide future coverage of the show.
Next year, Indy PopCon will be in July, from the 7th to the 9th. I'm planning on applying for an Internet Alley booth next year, so I can be in one place and not have to lug around equipment all weekend. This will also be a good base of operations for any Team Geeking members, so if they need to borrow a voice recorder, or get off their feet for a minute, they know where to find me. This also means, friends who I keep my eyes open for all weekend will be able to find me, as well! Indy PopCon is a great show, and I want to actually save up money, and give it to them, next year, after they've been so kind in providing me with press passes for the last three years!
So, 2016 was another fun show, and I'm glad Indy PopCon is part of Indianapolis' Geek Community! I have a bunch of photos taken by Lizz that I need to upload, but I haven't had a chance yet, and that means I'll edit this line in the next few weeks, after I get that done!
If I saw you at the show this year, it was great seeing you! If I missed you, we'll make it easier next year! If you weren't there this past year to see, you'd better be there in 2017!
Thanks, Indy PopCon!
Tony