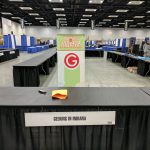 My friends, where do I begin? A few weekends ago was Indy PopCon, which is quickly becoming one of my favorite conventions in Indianapolis. I've attended every year, either as a member of the press, or as a vendor. Over the past few years, Indy PopCon has given me the opportunity to moderate panels, interview celebrities, mingle with awkward Twitterers, and generally just be around awesome people. This year, Indy PopCon gave me the new experience of freaking out over having a table, ordering merchandise, and generally wondering how it was going to be received, in addition to trying to experience the show.
First things first, I sadly was not able to experience much of the show. I was able to walk the floor a bit before the show opened, and I was able to, on occasion, run out and see friends, but for the most part I was watching the Sam Jones autograph line, YoYo tricks, and lightsaber battles. I was able to walk around a bit before the floor opened on Friday, but for the most part I was running to see Star Wars Indiana, friends in Artists Alley, and talking to folks in Internet Alley. This was okay, because I have had the chance to run around Indy PopCon for quite a few years, and I didn't experience much FOMO.
While I was sequestered in Internet Alley, I was able to joke around with my friends at the Obsessive Viewer Podcast and the Established Facts Podcast, as well as spending more time with folks with Podcast Indy, the Nerds You're Looking For, and Darkfyre Entertainment. Most importantly, I was able to stay in one general area, my friends were able to find me whenever they wanted, and I wasn't physically exhausted and in pain by Saturday night. I sold a few items, and I like to say that I did better than I realistically expected, but not as good as I optimistically hoped, which is pretty good in my book. I got to meet some folks who I've known online for a few years, I saw a lot of folks I only see at conventions, and I was a port in the storm for my buddies Mike and Greg when they needed a breather from the con floor. I had fun, sold a few fidget spinners, pins, and patches, and felt like the table thing was a good idea.
In addition to taking money for fidget spinners with my logo on them, I had the opportunity to raise some money for EARPS (Exotic Animal Rescue and Pet Sanctuary) by doing voting for different fandoms using donations. Here's how that broke down:
Friday was Star Wars vs. Star Trek. Final totals had Star Wars at $4.00 and Star Trek at $8.00. Star Trek Wins!
Saturday was the MCU vs. the DCCU. Marvel pulled in $9.41, and DC pulled in $3.92 from folks that wanted to show support for Wonder Woman. The Marvel Cinematic Universe won!
Sunday was a fairly weighted Nintendo vs. Everyone Else (Sega, MS, Sony, Atari, Neo Geo, etc). Nintendo pulled in $3.00, and Everyone Else pulled in $2.05! Winner: Nintendo!
With $12 on Friday, $13.33 on Saturday, and $5.05 on Sunday, a total of $30.38 was raised for EARPS! After trying to figure out how to drop the cash off when I work during the day, I finally realized I could donate via PayPal, and $35 was donated (I rounded up a bit) on the 17th!
Now that I have the two containers, I will be looking to do more of these in the future!
Some other highlights included Sam Jones (Flash Gordon), who was across the way, coming over to say hi to his neighbors, getting the new print from the Circle City Ghostbusters, getting new artwork from Joe Corroney (including his amazing tribute to Carrie Fisher for Denver Comic Con!), and handing out "Geeking Uber Packs" to Team Geeking members Sam, Bri, Spencer, and Grant. Speaking of Grant, he was able to visit the show on Sunday (and will hopefully have his thoughts posted in the next few weeks), and while he was there he was … you know, let him tell you the story. It's better that way!
Indy PopCon was a great time, and if I had any complaints, it was the fact that no one had prepared me for the sheer mental and emotional exhaustion I would feel after being at a table all weekend! I didn't think about the fact that, when I'm there as press, I can duck into a panel room and gather myself for forty minutes, or step outside and grab a breath of fresh air before going back in and being "on". When I was at the table, I was "on" from about 11:00 AM to 8:00 PM on Friday, 9:00 AM to 6:30 Saturday, and 9:00 AM to 5:00 PM Sunday, and that's just exhausting, you guys! And I wasn't even that busy! So, I give huge respect to my friends who do this on a regular basis! I gotta get better at it.
So, the 2018 Indy PopCon has been announced, and it's June 8th through the 10th. Geeking in Indiana already has their table paid for, so we'll see how we can grow this and make it even better next year! Goals for 2018 include:
Interviews! Every year, I talk about how I'm going to ask people what they like about being a Geek in Indiana. 2018 will be that year. I'm already starting to acquire pieces for a better portable recording setup, and I'd love to have folks drop by the booth and talk about that.
More pictures! I had so many costumers walking by my booth, and stopping for shots, but I barely got any pictures! Next year, I'll have the camera out, charged, and ready! (EDIT: Greg took pics around the con over the weekend, including some he took at my table! Check out his album in the comments! Thanks Greg!)
More booth stuff! Might be pins, probably won't be fidget spinners, could be costume items, could be promotional material from other local creators! Either way, booth was bare this year, and I want to improve that.
Clearer information! I realized that, unless I was asked, I had nothing that immediately told passer-by what "Geeking in Indiana" is. This will change for 2018.
So, how about you? What did you think of the show? What did you think of the table? Do you think I was undercharging for pins, like Molly did? Give me a shout in the comments, and I'll see you all at the next show!
Tony