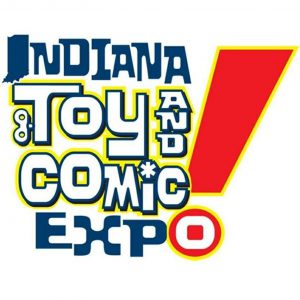 This past weekend involved hopping into the car with Lizz, and heading down to the town of Bloomington for the 4th Indiana Toy and Comic Expo. After an exciting drive down there (I forgot there is NOTHING going on during that drive), and Waze not quite knowing where the convention center was, we arrived a bit after noon. After finding parking, which was rather difficult (more on that in a bit), we headed in to see what was happening.
We paid our $5 each, and walked in on a packed building! It looked like Bloomington was ready for this show! After peeking over at the Family Fun Section, which looked like a lot of fun but wasn't what I was there for, we went up the escalator to the main show floor, which was the location of the real action.
The second floor was home of all the vendors and the artists. Right off the bat, you see the Jasper division of the Indiana Ghostbusters, as well as the 501st table. You were able to find some of the friends of the blog, like comics creators "Doodles" Handlon and Ron Braun, or author George Kramer, along with a ton of vendors for toys, comic books, and other Geeky stuff. There were classic video games available (including a booth that had Odyssey 2 cartridges), car decals, pixel art, Funko Pops, and a ton of Star Wars, GI Joe, and Transformers toys. Actually, there were toys from almost any property you could think of. There were also long boxes full of comics, as well as a nice table full of graphic novels from the sponsor of Artist Alley, Vintage Phoenix in Bloomington, who I've visited on a prior visit to Bloomington and found awesome.
Artist Alley had many great artists, with a good mix of original content and fan service. Booths that caught my eye, that I was also smart enough to get a card from and remember, were the AeroSoul Project, Mayonnaise & Bread, and Nate Michaels Art, but these were just a few of the booths in that section. There were other fantastic vendors, but I am a failure and didn't grab their info.
The costumes at the show were pretty terrific, as well. While we showed up too late to catch the costume contests, we still saw some great stuff, like a Nightwing and Batgirl, a Kilgrave with young Jessica Jones, a pre-decapitation Headless Horseman from the Sleepy Hollow tv series, and of course there was the crew from the Indiana Cosplay Association, along with the aforementioned 501st and Indiana Ghostbusters.
Now, as I said in the "Things to Do" post last week, there were certain goals we had for this show. ITCE is a one day show, and it's a toy and comic show. It exists to let folks get together, and to help them buy cool things from vendors. While I didn't find anything from Five Nights at Freddy's that the Geekling didn't already have, I did get a cool little piece of pixel art of the character Sans from Undertale, which she loves as well. Lizz found a gold Wonder Woman decal for the back of her car, and we both bought some art prints from Nate Michaels Art. Sadly, I didn't find any starships from Star Trek, but that's okay, as it's part of the thrill of the hunt!
Overall, the few hours we spent down in Bloomington for this show was time well spent. We saw some cool stuff, we talked to some friends and cool people (including Rachel of the Five-ish Fangirls Podcast! Carmen Sandiego always seems to find me!), and we did come home with new art and gifts, which is always a win! I was able to speak VERY briefly with Billy Cooper as we were entering, and he seemed pleased with the attendance. As I said, the place was packed, and parking (despite having a few free lots around the convention center) was kind of hard to come by, which is good for the convention!
The Indiana Toy and Comic Expo will be returning on August 27th in 2017, so keep your eyes on their website, their Twitter Feed, or their Facebook page for more info! Or, keep your eyes here!
This slideshow requires JavaScript.