It's really interesting, being able to watch a convention grow over the years. Since I started watching Geekery around Indiana in 2010, I have had the pleasure to see some local cons do just this sort of thing. This past weekend was the fifth year Indiana Toy and Comic Expo has graced Hoosier soil, down at the convention center in Bloomington, and I took the trusty Cardis through the treacherous never-ending construction zones from Indianapolis to see what this year's show looked like.
As you know, last week, I listed this show as a "Thing to Do". That's because while it's a smaller show, it's a neat little show. They're not held at the Indiana Convention Center, they're not pulling in big name guests and stars from stage and screen. They're not trying to be the biggest show in Indiana. Instead, what they are is fun. What they are is creator and vendor focused. What they are is very affordable. What they are is friendly, and well-ran. What they are is a great place to talk with creators, cosplayers, and vendors, and look for cool toys and collectibles. This is what I did when I was down there.
When it came to shopping, there were a lot of comic books, board games, action figures, car decals, and of course, Funko Pops, in the vendor section of the hall. At the other end of the hall was the creator section, where you found your sculptors, your artists, and your writers. Here, you found original art, fan art, original sculpture, bead art, and even masks. I saw many booths that I was familiar with, such as Adventure Scents, which carries unique smells for your role playing games, or The Dragon's Nest Unlimited, which is a booth that carries board games, yet only really sells at conventions. I saw items I coveted, such as collections of old Malibu Star Trek comics, or an old AMT/Ertl USS Excelsior model kit, but as this was a post-Gen Con, pre-Geekling visit weekend, money wasn't as plentiful as I had hoped it would be, so I just picked up an R5-D4 Funko Pop (which I didn't even know existed!), and a copy of Sexcastle by Kyle Starks, complete with signature, which I got as I talked with him for about twenty minutes.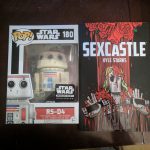 This was one of the cool things about this show. It's pretty relaxed. One would think, only being open from 9:00 AM to 4:00 PM on a Sunday, you'd be rushed, but it's not huge, so you can take the time to watch contests, or talk to people. For example, I finally had the chance to meet Hoosier-based comic creator Kyle Starks, and talk conventions and Indiana with him for a good while. I was able to catch up with the folks at The Dragon's Nest Unlimited and The Toy Pit, who I don't see too often. I was able to say hi to Skillful Studios and Mayo & Bread, who I usually just see at shows like this one. John Buchanan had his first table selling his sculptures, so I could FINALLY catch him sitting down at a show. Chris Dunn, a local artist, and I had the opportunity to talk about Wizard World shows. Of course, I also had a chance to hide beside the Indiana Cosplay Association table, and chat with Rachel of The Five(ish) Fangirls, along with friends in the 501st/Rebel Legion. And finally, I was able to see Billy, the man in charge of the Indiana Toy and Comic Expo, a few times during the show.
This year was a huge year for the show, with great attendance and a crowd that had a good time, despite the escalator leading to the second floor vendor area being busted. I know I had a fantastic time, and many others did, as well. Many of the folks I interacted with (even on the cramped staircase), were having a good time, and enjoyed the show. I'm already marking my calendar for their return to Bloomington on August 26th, 2018!