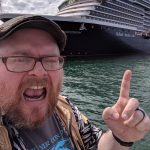 It started when a friend posted up on Facebook, asking if anyone wanted to share a cabin on a cruise. This started a years worth of Margarita Monday meetings, saving money, asking for (and receiving) new luggage for Christmas, getting a passport, and so much more. It was a year of anticipation, of stress, and of excitement that culminated in a week on board a boat full of Geeks and Nerds for the JoCo Cruise, 2018.
JoCo Cruise 2018 took me off solid land for a week, sailing from San Diego to Mexico and back, with stops in Cabo San Lucas, Loreto, and La Paz. There was drinks a flowing and an all day taco bar, in addition to the other food offerings. There was entertainment all around the ship, from the guests and from fellow passengers. It was like a convention that lasted a week, and didn't have a dealer's room.
Today, I was planning on having a blog post, detailing some of my thoughts about the cruise. However, as I was looking at my pages of notes over the course of this week, added to my jet lag, today you're just getting this post, saying I'm back, I'm alive, and what we're going to be talking about next week.
Next week, of course, will have JoCo stuff. Who was on the boat? Who did I see? What did I do? What was the room like? How rough did Holland America make our life? I'll be going through a week's worth of notes, and pictures, and putting together what I think you all would be interested in covering items like the cruise, and even the ship, because I could never find pics of what the cabins looked like!
So, I apologize for being exhausted right now, and just giving a placeholder! I'll make it up to you all next week!
Have a fantastic weekend, everyone!
Tony