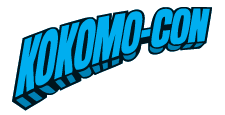 I've said it before, and I'll keep saying it: There is always room for the one-day convention. While events like "The Best Four Days in Gaming" are epic vacations, they also take a toll on your vacation time, your body, and your wallet. A one-day show lets you get in, see what you want, show off your costume, leisurely shop at different booths, and talk with your friends, and still give you enough time to run some errands and meet friends afterwards. You still get a great convention experience, but without as much time invested, and that makes them mighty. This is why I love Kokomo-Con.
Lizz and I made the trip up to Kokomo on Saturday to check out this fun show. This was her first time visiting, and this was my third year attending, having hit it in 2014 with my little brother, and 2015 with Star Wars Indiana. I made sure we had a $20 in my wallet for admission ($10 per, and I'd rather the con not have to pay fees for PayPal or Square), and after arriving and paying, we got our mustache hand stamps and walked in to check it out.
Kokomo-Con has a great mix of everything you expect to see at a convention. They have comic dealers, toy dealers, anime items, artists, authors, costumers, musicians, and food! They had a game room that had games being played all day, and they had costumers and cosplayers all over the con, getting their pictures taken and waiting for the costume contest, there was a charity auction that raised around $1.400, and there was just a friendly vibe everywhere.
There was a lot of cool things everywhere, but high points for me included:
Talking with my friends at Star Wars Indiana, and over the course of conversation, finding out a Resistance Pilot Vest made for someone didn't fit them properly. Curiosity has killed my wallet, because I tried it on, and it fit me perfectly. I guess you can say I'm now invested in the project. Luckily, it's one of my costuming bucket list pieces!
Spending time catching up with Christy Blanch and the crew from Aw Yeah Comics in Muncie. Not only are they awesome, but it sounds like Christy has some exciting projects coming down the pike, both personally and also for the shop!
Picking up an autographed copy of TET for my father's birthday, from Indiana's own Paul Allor!
Congratulating Nuvo "Best of Indy" Winners for "Best local Punk Band" (The Yavin 4) and "Best local Twitter Feed" (Jeff Angel of Angel Burlesque, who took MUCH MORE than that!).
Catching up with Rachel of The Five-ish Fangirls Podcast, and talking Doctoberfest.
Talking FLS Friday with The Toy Drop and AP Collectibles.
Meeting, and talking prop replicas and the community, with the Curious Good folks out of Ohio!
Seeing so many people I know! Folks, you know I can't call you all out, but you're awesome!
Finally, being so into the show that I didn't take a single dang picture. Luckily, the official photographer for the show is a friend that follows the blog, and has allowed me to link to his album. Folks, big thanks to Greg Chaney for sharing this with me! You can find his photo album here!
Kokomo-Con was a fantastic day, and I'm already looking forward to their next TWO shows! On March 18th, the first Groovy Geek Gathering will happen in Kokomo, and the next Kokomo-Con will happen on October 14th!
Thanks for the great show, Shawn and crew! See you next year!