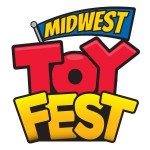 This past weekend, one of the newest entrants in the Indiana Convention Scene had their inaugural convention. The Midwest Toy Fest (MWTF) was held at the Wyndham Hotel on the west side of Indianapolis on Saturday afternoon/evening and Sunday morning/afternoon, and the focus of the show was not only on the obvious toys, but also on comics, art, cosplay, and games. Sadly, I missed Saturday due to being ill, and therefore not wanting to be the Patient Zero for con crud. Sunday, though, I got my happy butt down there before the doors opened at 9:00 (mainly because I didn't sleep the night before, having dozed most of Saturday), grabbed a Full Throttle from the little shop inside the Wyndham, and started to take everything in.
My first stop was in Artist Alley. MWTF had all of the artists in their own room this year, which while working best for the layout of the show, made it so people had to look for the artists specifically, in order to look at their work. I know I heard some mixed reactions from artists, but I also know the convention organizers were around, talking to them all throughout the weekend, trying to make sure everything was working for them. After talking with my friends in Artist Alley for a bit, I moved over to the Toy and Comic hall. Here was a lot of really cool stuff, none of which I had the money to pick up. I saw a Klingon Bird of Prey model from Star Trek: Generations that I loved, a ton of discounted graphic novels, old action figures, new action figures, costume pieces, and the booth from Who North America. This is where I bought my single piece of merchandise, because I had talked with them when they ran out previously, and told them I'd buy one when they got restocked.
Over the course of looking around, I'd run into friends. Of course, I saw Bri, as she had a table at Artist's Alley. I ran into podcasters that I know, artists that I know, friends who were attending… I am jealous of those who can say, "It was great running into Ron and Ginny and Fred and George…" because they can keep track of these things. I need to start taking notes! One thing that was really fun, though, was finding out from Bri that Jared from Geek Stuff off the Cuff wanted to sit and talk with us a bit for their podcast. If you've never given them a listen, hit that link and check them out, because Jared and Tony are both pretty awesome guys.
Another awesome thing about MWTF was the panel Bri and I did, about Geek Blogging and Social Media. We didn't talk to a huge crowd, but we still gave the best info we could on sites to host your blog, the different social media outlets with their strengths and weaknesses, and some history of this blog, and what we try to accomplish. As it was the first time we had done this panel, there are some kinks I need to work out, but over all, I think it was a success, and Bri helped me give some great information to those in attendance.
There was a lot of stuff I didn't get around to seeing. As I said, I didn't sleep the night before, so most of the day was in a haze, and there is something about the lighting in the Wyndham that throws me off, especially in the hallways between the vendor halls. I know I missed some great stuff on Saturday, like the "Toy Hunter" Jordan Hembrough's panel, or the Drink and Draw, but I also had the opportunity to spend some time talking with the guys from Failed Task, Indy Pop Con, and met the guys behind Whiskey Fueled Nerd, who I'm really looking forward to taking a look at, because seriously? Whiskey?
Overall, I was very pleased with the first MWTF. The folks running it were literally running it, making sure everyone was happy, talking to the vendors, and talking with the guests. I'm really hoping they're planning on coming back for a 2016 show, and hopefully I'll be a bit more healthy for that one, so I'll be a bit more apt to take pictures, talk to more people, and get more info!
Tony