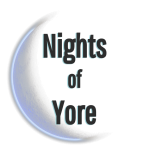 Maintaining a gaming group is hard work. First off, you have to decide which of the many gaming systems you're going to use. Then, you need to coordinate a time for everyone to play. Then, eventually, things will get more difficult. People will move away, start having families, and things will generally make it impossible to get a group around the table, even once a month. Many moons ago, this was a definite issue, but now, in an age of mobile devices, is there not something we can do to combat this? There's a Kickstarter, entering its final week, that thinks we can, and it's called Nights of Yore.
Nights of Yore is a project by Chip DiGiacomo and Jim Kincaid, who I've gotten to know fairly well over the last few weeks through talking face to face at Gen Con, and communicating through Social Media and email. I also got a chance to look at their proof of concept at Gen Con, and found it very interesting, so I wanted to make sure you all knew about it, past the little blurb that's been in Tuesday Tidbits the past few weeks. So, I reached out to the two with some questions about their project, since I've come to realize that sometimes, it's easier/better for the creators to explain something, than it is for me to!
First, some introductions. Right off the bat, these guys have shown that they are Geeks. Here's the response I got for their intros:
Chip: My name is Inigo Montoya. I am the programmer. Prepare to die.

My name is Chip DiGiacomo and I'M the programmer. No one has to die. I'm a web developer during the day and at night, I'm a masked vigilante with some sort of flying rodent motif. But don't tell anyone, it's a huge secret.

Jim: Anybody want a peanut?!

My name is Jim Kincaid and I'm the guy that dreamt up this crazy thing. I'm a lifelong gamer, musician, networking socialite, and all around stand up dude.
As I said, I kinda like this guys. Now, being the consummate professional that I am, I sat and talked with them for a good forty minutes at Gen Con a few weeks ago, but not once did I pull out my recorder. So, some good conversation was lost to time. However, through the power of email, I was able to get some questions to them about Nights of Yore, their goals with the Kickstarter, and their future plans to grow their platform.
Tony: What's your elevator pitch for Nights of Yore?
Chip: Nights of Yore is tabletop gaming, simplified into one night. AND you don't need all the peripheral books, miniatures and math! All you need, as a player, is your phone, or as a Storyteller (DM) is your laptop/pc or a tablet. The storyteller hosts the game, and all the players connect with their phones, either in the same room or over a network connection.

Jim: A traditional tabletop role playing game (TRPG?) streamlined on your smartphone and TV.

More? OK!

The Storyteller (DM) runs the game from a laptop or tablet then Chromecast or 2nd monitor to the TV for the tabletop. Players connect their smartphones or tablets to the same network to join the game. All the fun of of a traditional TRPG game but streamlined for more focus on game play, role playing, and story development. No dice, books, miniatures, or set-up. Games are designed to be played start to finish in a single session, 1-12 hours. Our streamlined D20 based system is easy enough for new players but fun and challenging enough for old pros. A great way to introduce new players to TRPGs or a casual game night for anyone.
Tony: Where did you get the idea?
Chip: Jim.

Jim: I grew up on 80's and 90's console JRPGs like Final Fantasy and Breath of Fire. My absolute favorite games. Always wanted to play D&D but never had the available friends, resources, or know how to get started (pre-internet days). It seemed right up my alley but was pretty much inaccessible. In my early 20's I finally had a chance to play and immediately loved it. My first game went from 8-12 hours each gathering and I was always bummed when it was over. Over the years I had a few more games but it was always difficult to get a new game going. My most recent campaign went for 2.5 years and was a blast. Great friends and great memories. I was always excited to bring new players in to the fold but there were a lot of obstacles and objections surrounding that notion. About 2 years ago I started contemplating a game system that would deal with all of the objections new players have when considering playing D&D, Pathfinder, or any other TRPG. I wanted to make something anybody could play immediately with whatever friends were available or interested. So I made my list of objections to deal with:

Who's going to DM?
Making a campaign takes weeks of planning.
Making a player takes too long
We don't have room for new players
Sorry, we're level 14 and you would be too far behind on story and player experience
I don't understand all these rules
Game-play is too slow
I have to buy too much stuff
It takes too long to set up, get started, and tear down
I don't want to leave all this stuff set up til the next time we play
I can't play every week
Billy was supposed to be here 3 hours ago!
These table chairs are uncomfortable
etc.

Nights of Yore addresses all of these issues.

Originally I planned on making a card based system that used minimal dice. About a year ago I showed a good friend my concept at 3 am after a party. He was like "No way man, this needs to be an app you can just download and go!". That got my gears turning and I contacted Chip. I knew he went to school for making games and we both grew up way in to Final Fantasy and geeking out hard. He was immediately into the idea. We met up a couple times then decided to make it our new passion. Since then we get together once or twice a week and work independently between gatherings. Always emailing, texting, and swapping files. We've had a few really good friends help with a lot of the logistics like Neal Cunningham on Sound/right hand dude and Clark Giles has been a great mentor and guiding light.
This slideshow requires JavaScript.
Tony: I know during Gen Con, you mentioned some places you'd like to go with the software, like including rankings for Game Masters, as well as Gamers, and even including some pay-to-play options for high ranked GMs. Would you like to give more details?
Chip: Um… Jim? There are pieces of the code that have me literally drooling to get started and working, but that's really up to the idea man.
Jim: We have a few phases of development in mind.

Phase 1

Get the basic game off the ground

Randomly create a Campaign and Characters in minutes and start gaming.
Player App Pro will be available for Players to create Characters and save them.

Phase 2

Customizable version – Storyteller Pro

Create custom Campaigns, Areas, Dungeons, Items, etc. and save it for later.

We even plan on having an art program integrated for in game design.

Phase 3

Go online – Forums, Hosting, Ratings, Pay/Paid to Play

Storytellers, Players, Campaigns, Areas & Dungeons, Items & Equipment, etc. will all be rated.

Storytellers, Players, and Content Contributors will value and police themselves.

Players will be able to to search for Storytellers based on rating, games run, and campaign ratings.

Storytellers will be able to choose from any content created (searchable by rating, times used, creator, etc.) to build their Campaigns.

A Storyteller may only accept Players of a specified rating and above and/or minimum hours played.

Storytellers of high ranking will be able to charge Players for running a game.

This will create a sort of celebrity Storyteller status based on their performance and popularity.

The more popular the Storyteller the more they can potentially charge a Player to join their game.

This enables a Storyteller to potentially make a living running games and allows Players to play games with Storytellers they would never be able to otherwise.

Players and Storytellers below satisfactory rating levels will be required to partake and run free games until their rating and hours are once again acceptable. So play nice and respectful!

Online will also allow for Arena, where players can form a party and compete against other parties online in a PVP bracketed tournament system.

We will have a free version or a paid version that pays out to the top performing parties.

Paid games and Arena buy ins will all require a percentage to go to the Storyteller's and/or Player's charity of choice.
It's all very ambitious and will likely take us years to implement. We see a great and fulfilling future for Nights of Yore and we want to bring Role Playing forward to the technology and tools available to us today. As well as making it more accessible for everyone that wants to play and be involved.
Tony: As much as none of us want to think this way, what are your plans if the Kickstarter doesn't go through? Are you going to go ahead with the project? Are you going to retool the campaign and try again?
Chip: If the Kickstarter doesn't start kicking (AHA!), we have other artists that we are talking to, since artistic fees are the majority hold up at this point, as well as I think we can reset our deadlines and start fresh. I would like to go to PopCon and GenCon with, at least, a beta version for people to sit and play, if not a completely finished product. I would love to see people walk away with games 'in-hand' (EH?), but even better would be to see them excited to play. I want to see that look in their eyes, when we take their pre-conceived notions, from when they first see the proposal, and break them to pieces. I want to destroy their gut reactions and make them imagine all that they will be able to do with this game.

Jim

: We're very DIY and never originally intended to do a Kickstarter but we really liked the potential of expediting the creation of the game. It's also been a hugely educational experience for us in marketing, explaining our concept, and having a crazy fun time making the best video we could muster. It will afford us a high caliber artist, an advertising push when the game launches, enable us to be at more conventions, and the ability to set up the infrastructure to support us moving forward.

If the Kickstarter does not succeed then we will have a much harder time with all of those things. But we still plan on moving forward with the project. This isn't something we're doing so we can quite our day jobs or cash in. It's what we've wanted to do our entire lives and we've finally found the form-factor that makes the most sense to us. It's something worth fighting for and working every free moment we can find. Chip has two kids and a wife in college. I have my first born on the way and my wife just graduated. We're beyond busy and there's not enough coffee in the world. The Kickstarter will bring all of this to life sooner but we're making a game with or with out. So all I want to know is… Who's coming with me?!

This entire project has been a wild ride for us and we're meeting great people every day because of it. Gen-Con and Kickstarter have forced us to do things and go in directions we never considered. We've gained so much experience along the way. I'd say we're at least level 5 by now.
We can't wait to see how Nights of Yore will change the world of Role Playing Games.
They've been our passion for such a long time in our lives.
It feels amazing to be contributing to it and making something of our own to give back and grow the genre.
So folks, if this sounds like your cup of tea, might I recommend taking a look at the
Nights of Yore Kickstarter
? It's running now through Wednesday, August 31st, and they currently have a LONG way to go to hit their goal! So, feel free to give them some love! Also, if you'd like to reach out, you can find them on
Twitter
!
Give them a look! I know I'm looking forward to seeing what these guys come out with, be it through Kickstarter, or on their own!
Tony