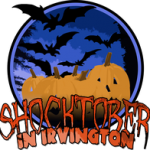 If you haven't seen me writing about Shocktober in Irvington over the last few weeks, then one of us really dropped the ball. This was an event put on by my friends at the Obsessive Viewer podcast, that I really wanted to help promote, so I wouldn't be quiet about them on social media, I was pushing them on Tuesday Tidbits, I wrote a "Thing to Do" blog post, and I had them on the podcast, promoting both the show and their own podcasts. Now, to wrap everything up, I'm going to tell you what I thought of the event, and why I'm going to continue to show them love, and push for everyone to attend, in 2017.
First things first, I will admit we were late to the event. I attended with Lizz and Mike, and we thought it would be a good idea to walk over to The Mug to grab a bite to eat. Well, despite being able to quickly place our order, we waited approximately 40 minutes before getting our food, so our thoughts that, "A hour should be plenty of time" turned out to be patently untrue. This is not a fault of The Mug, and I know all three of us are planning on heading back. We are just going to do it when we have more time available to us! However, sadly, this meant we walked in after the introductions, and it was at the tail end of the fan film from Circle City Ghostbusters, so despite my love for the group, I won't be able to touch on their project until after it's released on their website.
The films we caught were interesting. JP Leck screened "The Roman", which was the latest piece of his Elsewhere World series. While I was a bit lost (it's part of a multi-media series that includes books and radio dramas, which you can find at the link), I enjoyed how it showed off parts of Indianapolis, like Crown Hill Cemetery, as well as the very theater we were sitting in. Both Vindicta and Bobby, from Team Dharma for the 48 Hour Film Project, were unique and different, and I really enjoyed Bobby because I like clown dolls. Date Night of the Living Dead was the first ever film from The Nerds You're Looking For podcast, and it's better than I could ever do for a first feature. The films ended with Princess, which was written and directed by James Morris, based on a story by Michael Ballif. This will make you really wary of your stuffed animal collection!
After each film, the Obsessive Viewer crew had a representative of the film's crew come up, and answer questions for their upcoming podcast. There was some good conversations about decisions made for the films, why the film makers went with a certain tone, and why they went the direction they did. At the very end, everybody came up for a group Q&A, which is how I confirmed "The Roman" was partially shot at Crown Hill Cemetery, and I made sure the Circle City Ghostbusters didn't bring any extra Ecto Cooler with them.
In addition to the films and interviews, there were giveaways throughout the event. These included gift cards to local Irvington businesses, DVDs and Blu Rays, and even props from "The Roman". I was lucky enough to win a gift card to Indy Cycle Specialist, as well as a DVD copy of Tucker & Dale vs. Evil, which made me quite happy!
Even though this was their third year, it was the first year I was able to hit Shocktober in Irvington, and I'm so glad I did. I'm looking forward to making this a yearly event to hit, much like Indy PopCon, Gen Con, and KokomoCon. Be prepared for the deluge next year, because this is one of my new favorite things that I want to keep happening, so I will be doing my best to tell everybody about it!
Huge thanks go out to Matt and Tiny for humoring me, while they were busting their humps to make the event happen! I'm glad I was able to help, in some small way, and I can't wait to see what happens in 2017! Mark off the first weekend in October on your calendars, and look for the solid date early next year!