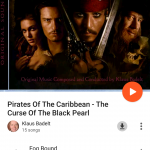 I like to think I find joy in many things in life, but one thing that really is guaranteed to bring me joy is music. I use Google Music a lot. No, really, like a lot. I probably listen to content on it, on average, 14 hours a day. I have my favorite bands and artists that I listen to, like "Weird" Al Yankovic, Barenaked Ladies, and Reel Big Fish, but what I really listen to most of the time are movie and video game scores. I know most of you who know me are thinking, "Oh yeah, stuff by John Williams, right? Star Wars, Indiana Jones, Jaws…" but seriously? I have a few that I always revisit when I'm relaxing, writing blog posts or training documents, or staring blankly at a computer screen trying to figure out what I'm going to write about at 9:45 PM on a Wednesday night.
Tonight, I'm going to tell you about some of my personal favorites that are on my rotation, and because I'm looking to be able to afford an Internet Alley table at Indy PopCon this year, I'm going to go ahead and link these albums I like to Amazon Affiliate pages, so if you like them, and give Amazon money for them, Amazon will throw some pennies at me. Cool? All right, let's get to it.
First up, we've got the soundtrack to Pirates of the Caribbean – The Curse of the Black Pearl. This soundtrack, by composer Klaus Badelt (a student of Hans Zimmer's, who worked with him before taking over officially on the sequels), just has some good, strong, fun music. It has iconic themes that keep me energized and focused while working, and it is my "go to" album when I'm looking at my collection, trying to figure out what to listen to.
Next up is a group of three albums, which I have together in a playlist. These albums are by Michael Giacchino, and they are the scores for Star Trek,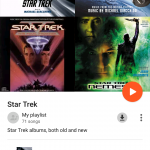 Star Trek Into Darkness, and Star Trek Beyond. Now, don't get me wrong, this playlist also has classic Star Trek scores, like The Wrath of Khan, in it, but these are the ones I listen to the most. They all blend very well, and you can hear how well the common themes mix in with movie specific pieces wonderfully. Many times, I will start my day with this playlist, and even let it roll over into the original cast films, and the Next Generation pieces. Sure, Nemesis was a lousy film, but the score is decent enough!
Next up? The Mass Effect Soundtrack by Jack Wall. Why? Simply put, it's Mass Effect, and it makes me happy.
Finally, I need to throw the Kingdom Hearts soundtrack up here. Why? Because I love Disney music, and this gives me those great Disney themes, without the distracting lyrics. Sure, my brain tries to fill them in itself, but for some reason, it isn't as distracting as listening to the vocal artists and singing along. Then, when you throw in the other music they mix in, it just becomes fantastic. This was one of my favorite games on the Playstation 2, and the first game I actually played from start to finish, so listening to the music gives me a lot of happy memories.
I could go on and on with this list, but it's almost 11:00 PM, and I need to be up in six hours. So, what do you think? Do you have any music that you love to listen to while you work? Let me know! I'm always in the mood for new tunes!
With that, it's bedtime! I'll see you all tomorrow, for FLS Friday!
Tony