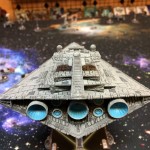 Last year, you probably saw me post a bit about the X-Wing Miniatures Game by Fantasy Flight. I wrote about my initial response, and then did a Christmas List of some of the extra ships that would be cool to have. While I do enjoy some X-Wing, and I've recently gotten some of my co-workers hooked on it, as well, it's not the only Star Wars space battle game Fantasy Flight has.
Late last year, I was able to pick up a copy of Star Wars Armada from Hero's Emporium, my FLGS. On the surface, Armada looks like X-Wing Miniatures: the core set consists of three pre-painted miniature ships, except instead of two TIE Fighters and an X-Wing, it's a small Imperial Star Destroyer and two Rebel ships, a Frigate and a Corvette. The X-Wings and TIE Fighters in the package are about the size of large flies, and are the only ships not pre-painted. This game only lasts 6 rounds, though the ships can really start hammering each other by the second round. It involves a different way of thinking, as well, as some of the ships require you to plan out your moves a round or two in advance. This includes movement, repair, attack… all of that. All of the movement takes a while, as well, because you're talking the big capital ships, not the small fighters. They are not as maneuverable, and it shows.
I've had a chance to play a few games with a buddy, Scott, over at Hero's, and it's been a lot of fun. I've been commanding a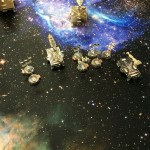 Rebel Fleet, and he's been commanding an Imperial Fleet. We've played twice, and while I can't remember who won the first game, I do recall that he did get me on the second game, when he took out a fairly well staffed MC30c Frigate and a couple of my fighter squadrons. You see, while the ultimate way to win is by wiping out the other fleet, the other way to win is by destroying the ships worth the most points, which are based on the points you use to build the fleet. The game has been very enjoyable, and I regret not having a chance to play it more. It is a very nice, slower paced alternative to the dogfighting that is X-Wing Miniatures, and while the entry point is a bit higher, money wise, who doesn't want to be an Admiral in charge of their own fleet of Star Destroyers?
This game hasn't been out long, and there's only been a few waves of ships out, so here are Affiliate Links from Amazon so, if you can't make it to a Friendly Local Game Shop, you can still get started. I'm listing everything available, as well as recommending a second set of dice, because there aren't enough in the core set to cover some of the ships!
Here's what's available: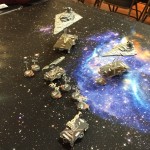 In case you're curious, my personal collection currently consists of the Core Set, the MC30c, an extra Corellian Corvette, the Rebel Fighter Squadron, and the Rogues & Villains, and that's all I'm looking to fly in the near future, although if I stumble into some extra money, I'm going to pick up Home One and the Assault Frigate Mark II. Yes, I'm staying very Rebel focused in this game.
If you're looking for some more in-depth information on the game, I recommend checking out the Star Wars Armada section on Fantasy Flight's website, and the Star Wars Armada sub-Reddit, both of which have some good information.
Do you play? What do you command? Give me a shout in the comments!
Tony