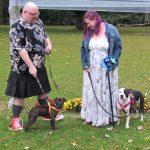 I'm going to slide off of writing about Geekdom for a bit today, and go a little bit more personal. Tomorrow is Thanksgiving Day, which for the first time in a long time has me thinking, "What do I really have to be thankful for?" I mean, as you well know, 2018 has been, pardon the expression, a shit show. All of the social and political issues aside, I've only seen the Geekling once this year, the Cardis 1.0 was totaled by a hit-and-run driver the night after Indy PopCon as it was just parked in the street in front of the Geek Cave, then Lizz and I were almost totaled by another hit-and-run driver in front of a Kroger less than a month later. This led to a rough weekend for Gen Con, normally a big weekend for the blog (right after Indy PopCon) and made me very distracted and slightly irritable at other conventions, like Teen Con in New Castle and the Indiana Toy and Comic Expo down in Bloomington. This, combined with losing my job in late October, caused me to call off any conventions after Doctoberfest, meaning I'm missing out/have missed out on Midwest Toy Fest, Starbase Indy, and PopCon Fort Wayne. Then, just a week ago, a large box truck backed into the Geek Cave, crushing the gutters on the front and side of the porch before driving off, after I yelled at them to "STOP BACKING INTO MY HOUSE!" So, there's ANOTHER hit-and-run in the books for 2018. All of this, we still have a month and a week left in the year!
However, it's not all that bad, right?
I mean, let's look at that last thing. Luckily, the box truck that hit the Geek Cave had a company name on the side, and I was able to talk to the owner, who had everything fixed by the end of the week. That's a win, right? In addition, I wouldn't have been home to see this happen if I was employed, so I guess some of these things do happen for a reason!
Looking back at the hit-and-run incident in July, we were lucky that there were so many people who ran to our aid, or ran after the car that hit us. The manager of the Kroger was fantastic, and kept our purchased groceries in the fridge/freezer until we were able to pick them up. We still have a LOT of debt, because they still haven't caught the woman who hit us (do you know how many hit-and-run incidents there have been in Indianapolis? WAY TOO MANY.), but Lizz is almost completely healed, and I'm getting by.
When the Cardis 1.0 was taken out, it took away a car with a lot of memories, some good, some bad. It took away a vehicle that was paid off. It gave us a car payment that we're still working on budgeting. However, it also gave me a newer, more reliable vehicle. It gave me another "box" car, this time in blue, that I can really call the "Cardis."
Let's also look away from trying to put a bright spot on bad things. This was the year where, after being friends since high school, and both of us going through a lot, Lizz and I got married. It wasn't a huge thing, just some friends over at my parent's house for a party. I did a toast, thanking everyone for coming, then I proposed to Lizz (planned, not a surprise), and then I kinda looked out to the crowd and said, "The night's still young… hey, Aric? Aren't you ordained?" and less than an hour later, we were married.
Also, I'm thankful my mother didn't kill me for that surprise.
I'm thankful for everyone that went, everyone who wished they could, and to those who helped out. To Aric, for putting together a wonderful ceremony. To Mike, for standing up there with me. To Chrissy, for standing with Lizz. To Jen, for making and gifting both the "five minute engagement" and the wedding rings, and making sure the engagement and wedding rings for Lizz worked well together. To my gaming group for helping with the planning. Just… everybody. My friends. You all make this Geek very happy.
I'm thankful for having a house full of happy critters.
I'm thankful for my child. I'm thankful for my family. I'm thankful that I'm still alive. I'm thankful for all of you.
Finally, I'm thankful that tomorrow, I don't have to worry about my meal plan, or cooking. Or having a post up.
See you Friday!
Tony