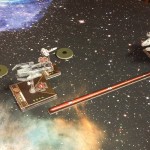 Flash back to Gen Con 2012, when I was pulled in by one of the booth attendants at the Fantasy Flight booth to check out a new space battle game based on Star Wars. After playing a round, I found I really enjoyed the X-Wing Miniature Battle game, but it took me a few years before I had the opportunity to do much with it. Then, we fast forward to May of 2015. As a lark, I put my Birthday Wish List from Amazon up on my blog, in all honesty not expecting anyone to do anything with it. Lo and behold, the awesome Sean McNab ended up getting me the Core Set (affiliate link) for X-Wing Miniature Battle (consider this yet another thank you, Sean!)! To follow it up, I was given an A-Wing, a TIE Interceptor, and a Slave One (all affiliate links) from my friends Danny and Claire! You have to love long-time friends who own a game store, because you never really know if the reason they're giving you pieces for a miniature game is because you're interested, or if "the first taste is free, then it's going to cost you!" Since that time, through Amazon Gift Cards and a bit of money thrown at local game shops, I've also outfitted my "fleet" with a second Core set (thanks to The ESTABLiSHED FACTS podcast game trade at Pop Con), the Millennium Falcon, a B-Wing, the Rebel Aces Pack (with a second A-Wing and B-Wing), and an E-Wing (affiliate links ahoy!). This is a total of fourteen ships thus far, and I tell you this to give you an idea of what I'm working with as I'm talking about the game.
As I'm talking about the game, know that I'm talking about it from the position of the rookie. I have played a grand total of two games, and I currently have a 1-1 record. However, the basic mechanics of the game is quite simple. Every ship has numbers for Speed and Attack, which let you know who moves first, then who attacks first. There are dials that let you know the movement your ships take, and you set those before movement. Then, when it's time to move, you have spacers that tell you where your ship ends up. When you attack, you have a measuring tool for range that let's you know whether or not you can take shots at your opponent. There are three factions: Rebel, Imperial, and Scum/Villainy. I prefer to play a lot of Rebel Ships, in case you couldn't figure that out by my costuming and fandom choices. So far, I've played by what I think are Organized Play rules, which gives you 100 points to build your squadron. I've used the Falcon, with my pair of A-Wings, to play two fun games. I've made rookie mistakes, like landing my Falcon right in the middle of my opponents group of fighters, but overall, I've been pleased with the game.
One thing I love about the game is the quality of the ships. Sure, they're small, and sometimes fragile (one of my X-Wings is already missing a laser), but the detail is astounding. The Slave One looks like it's been flown for years, passed down from father to clone. The Falcon is nice and banged up. The larger ships, from what I have seen, are very well done, as well. However, they aren't used in normal play, and they cost as much as 2-3 tanks of gas for the Cardis, so they are not high on my list of priorities.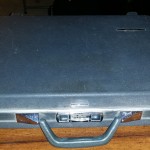 One qualm I had with the game was storage of the ships. Like I said, they're small, and sometimes fragile. The Core Set had space for the X-Wing and two TIE Fighters that came with it, but nothing else. After spending time looking at cases for storage on Amazon, or at tackle boxes, most of which ran between $30 and $60, I realized I had solutions laying around the Geek Cave. First, was an old briefcase of my father's that he had given to me. It's a grey Travel Master, and my internet searching refers to it as "vintage", so I've got that going for me. After taking measurements of the interior, I took a few of my EVA foam floor mats and cut them to size. After they were cut to fit the briefcase (they went four deep), I then cut rough shapes of my ships into the foam, most of the time going two layers deep, although the A-Wings were so small they needed only one layer (luckily, I hadn't thrown away the pieces I cut out yet, so I just shoved a layer back in), and I had to go three layers for Slave One and the TIE Fighters. I drilled holes for the pegs on the Falcon and the A-Wings, and hogged out a trench for the pegs on the B-Wings. Finally, after using it for a week, I ended up cutting off a bit from one side, to hold the ship bases and the measuring tools that don't fit inside the Core Rule box. This briefcase now holds all of my ships, with space for maybe a few more, along with the measuring tools, my small cards, my binder full of pilot cards, the rules, and the bases for the ships. The Core Rules box holds all of my ship counters, mines, movement discs, and other pieces that every board game decides to come
with.
If this game looks interesting to you, I recommend checking it out at your FLGS. I know my home shop has Organized Play every Saturday, and I'm fairly certain other shops around the state do, as well. For information on the game, you can visit the X-Wing Miniature Battle page on the Fantasy Flight website, and I've also been enjoying the Miniature Battles sub-Reddit, as well. I know it's not a new game, but it's a fun game, with a lot of different ships to check out, and play.
Give it a shot!
Tony