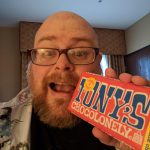 Last week, I was going to get on a soapbox, and rant about something that irritates the living heck outta me. However, I took a deep breath, and realized that I'd much rather write about stuff that I like, and I kinda figure you'd all rather read about stuff that I like, that you might like as well. So, as we're getting to the end of January, I thought I'd start making it a habit at the end of the month, and put down my thoughts on the month that has passed, and what I liked about it. After the rough year that was 2018, this just seems like a good thing to do in 2019.
Before I jump in, I would like to kinda point to the soapbox, though, and make one thing clear. In 2019, I'm done bagging other people's opinions on simple, harmless stuff they like, or don't like. I'm also done putting up with it on my feeds. You don't like something I do? Great! That's an opinion you have! Keep scrolling, maybe? I love something you hate? Great! That's an opinion I have. I'll keep scrolling, and not tell you I think you're wrong. This serves no purpose, and I'm throwing it out, because it brings me no joy.
Now, without further ado, let's take a look at what's bringing a smile to my face!
Star Trek Discovery, Season 2
Tonight will be the second episode of Star Trek Discovery on CBS All Access. So far, I've seen last week's episode, "Brother", twice, and adore it. After the first season, the cast has really started capturing their characters, and have become comfortable in their skins. The writing seems to be lighter this season, despite dealing with some of the heavy aftermath from season one, and I'm really psyched to see where everything is going in season two. When it came to the characters, the additions of Captain Christopher Pike (Anson Mount) and engineer Jett Reno (Tig Notaro) were fun as hell, and I'm looking forward to seeing more of their characters as the season goes on.
When I saw the news that Jason Reitman (Juno, Up in the Air) was doing a Ghostbusters film to be released summer of 2020, I thought, "Huh." Then, the next day, when they premiered a little teaser trailer, showing the original Ecto rusting away in a barn, it had my attention. Now, since that trailer, I've avoided all the speculation, casting rumors, and negativity surrounding it (happy, remember?), so all I know at this point is, if it's half as good as 2016's Ghostbusters: Answer the Call, I will be a very happy Geek!
Working with Friends
You all know I'm now working on a couple different podcasts. I'm not shutting up about it. However, part of why this excites me so much is because it is taking this blog from a project used to kill time, to something that I'm doing with friends. The Friday nights I spend in the SFP Studios with Matt, Josh, and Mike, bagging on bad movies, are a blast, and a great way to wind down the week. Though nobody has heard it yet, the podcast that Lizz is starting involves getting even more friends together, enjoying a meal and some television, then sitting down and recording. Of course, this doesn't all start immediately, and it's a great way to catch up with everyone. Hanging out with friends makes me very happy, even when it involves a digital recorder and microphones.
The Children's Museum of Indianapolis
This place has brought me happiness since I was a kid, and in recent years, it's brought me happiness with the Geeky exhibits they've brought in. This past month, though, they brought me extreme joy by giving me an awesome opportunity to check out their collection! I was given a tour behind the scenes, including a TON of toys from my childhood, a lot of their cultural pieces, and even some spoilers for upcoming exhibits! All in all, I was just overwhelmed by everything I saw, and the conversations I had with the awesome folks who take care of everything. On top of all that, at the end of the month, we have the preview night for the new Star Trek exhibit, and I am just so dang psyched for it, everyone! You have no idea!
These are just a few things that have brought me happiness this past month. Of course, there's also family, pets, and all that, but this is more "Geeky" stuff I think others would dig.
What's been a bright spot for all of you over the past month? Give me a shout in the comments, or post on Twitter using the hashtag #HappyGeek!
See you all tomorrow!
Tony