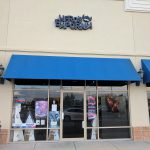 UPDATE: Hero's Emporium has moved! Their new address is 14400 Clay Terrace Blvd. #160 Carmel IN. 46032 if you wish to visit! I'll be updating this blog post with pics of their new location as soon as I can.
Hero's Emporium started on Keystone Ave. back in 2014, and it became a place for a lot of folks to be able to relax, buy and play games, play Magic, and just hang out with friends. When they closed in late 2016, there were a lot of sad people, but there was a glimmer of hope. News was that someone had bought the shop, and would be reopening it in a new location come the new year!
In early 2017, it was announced that Adam was the new owner, and he would be opening up a new storefront on East 96th Street in Indianapolis. Open it did, and it is still going strong in the strip mall behind Joella's Hot Chicken, Chipotle, and near the Stacked Pickle.
I finally was able to stop in a few days ago, to check out what Adam was bringing to the Indianapolis gaming scene. Now, I will admit that driving across the north side at 5:00 PM on a Wednesday is not one of my brightest moves, but the slow traffic did not deter me, and I'm glad it didn't. Walking in, you can immediately tell what they sell. There are posters and standees in the windows for Magic: The Gathering and other games. There are board games on the walls, there are games and collectibles on gondola racks on one side of the store, and there are tables on which to play games down the other side of the store. Adam sits behind the counter, talking with a customer as I walk in, and he acknowledges me as I walk in, and start looking around.
As you look closer, you start noticing some interesting things. A lot of the artwork on the walls are either more of a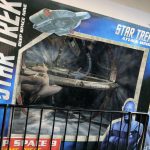 general "Geek" bend, and not just games. One entire side has old Decipher marketing materials from the Star Wars and Star Trek CCG in frames. There aren't just games on the shelves, either. He has a section of Funko Pops, and another section of comic books. He has supplies for not only cards, but comic books. There was a shelf with collectibles, like a Tardis mug, as well.
Talking with Adam, he is trying to carry on the tradition of the community that the original Hero's Emporium had, and is also trying out different products, to see what people like. Since opening, he's had some really good groups meeting at the store, including a few D&D groups, a Starfinder group, and a steady group of Magic: The Gathering players on Friday nights. In addition, he starting to build his own game library, and on the first Saturday of every month, he's going to crack open and demo a new game from his shelves. For example, tomorrow (October 7th) will be Betrayal at House on the Hill. He's doing this to help, not only improve his game knowledge, but also to encourage more people to come in to play board games, as well as RPGs and CCGs. In addition, he likes to embrace old games. For example, he's a long-time fan of the Decipher CCG's, both Star Trek and Star Wars. You can clearly tell this by the old marketing materials on the walls, and the framed sheets of uncut cards by the comic book rack. While Decipher has gone the way of the dinosaur, the games still have a solid fanbase, and there are still tournaments played. He's looking to host some of those events in the future, and he's always open to others.
As I visited and talked, I picked up a set of comic boards and bags, as I'm trying to get a handle on my collection. As I was ringing up, I signed up for their "loyalty" program. You put in your cell phone number, and then, for every $10 spent, you get a point. 10 points gets you $10 off a $30 purchase, 20 is $20 off $50, and 30 is $30 off $75 (if I have this wrong, Adam, email me and I'll correct it!). This is another nice perk the shop offers.
If you're on the north side, or in Carmel, or Noblesville, or Fishers, and you're looking for games and comics, or just want to talk them, drop on in!
Here's what you need to know:
Who are they? Hero's Emporium
Where are they? 4705 E. 96th St. Suite 25 Indianapolis, IN 46240
What are they? Your friendly local game shop!
What is their parking situation? They are located in a strip mall, so there is plenty of parking in the lot around their store.
When are they open? They are open on Tuesday from 4:00 PM to 9:00 PM, Wednesday and Thursday from 1:00 PM to 9:00 PM, Friday and Saturday from 1:00 PM to 10:00 PM, Sunday from 1:00 PM to 6:00 PM, and are closed on Monday.
What is their phone number, in case I get lost and need directions? 317.218.3284
Just kidding on the phone number! Internet! Where are they online? You can visit the website, their Facebook page, and their Twitter feed!
This slideshow requires JavaScript.