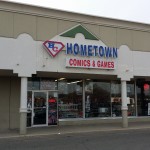 UPDATE: Hometown Comics has MOVED down the road to a larger location! The address is updated, and I'll be in to get new pics and update this post when I'm in better condition!
Back when I first started writing posts for Geeking in Indiana, I visited a shop in Greenfield called Hometown Comics and Games. Located in downtown Greenfield, I thought their shop had great character, despite feeling just a slight bit cramped. One thing that came up during that conversation back in 2010 was how they felt like there wasn't much room for expansion.
Fast forward to 2013, and I receive word that they have moved locations! Sadly, I'm not out in Greenfield that often, normally cruising past it on my way to the booming metropolis of Shirley. However, a few weeks ago, I got the urge to drive to Hancock County and check out their new location.
First things first: Do not trust your cell phone navigation. For some reason, both Siri and Google Maps want to bring you to their old location, even if you click off of their location on Facebook. Their new location is on State Road 9, in the same strip mall as the Hallmark (hey, it's what I know!) and behind the Taco Bell (also what I know!). If you're coming from Indy, hop onto I-70 East, hop off on State Road 9 and go south (right) and they'll be a few miles down, if that far.
In their old review, I mentioned that one thing I liked about their shop was the character it had. It didn't seem as sterile as many of the strip mall comic shops I've visited. Luckily, their new location, despite being in a strip mall, still doesn't feel sterile, and maintains a lot of the character their old shop had, just with much wider aisles. They have so much more room now, and it's all on one level, with their gaming section in the back room. No longer do you have to go up a small flight of steps to get to the store, or down a small flight to get to the gaming area.The shop takes good advantage of the space as well, filling it full of comic books, trade paperbacks, games, toys, supplies, and collectibles. They have really set themselves up to be the one-stop shop in Greenfield, that is also a great asset to those on the far east side of Indianapolis. While I was there, there was a lot of people in the gaming area, taking advantage of one of their scheduled games, and they had a steady flow of folks coming in, looking for books, games, and cards. Donald and Frances Hull (the owners) are really great people, who didn't lynch me when I walked in for not updating their blog post over the course of the past year. I had a great conversation with them once more on this visit, and I'm more convinced than ever that this is a great place for people to visit!
Check them out when you're in the area, or even if you're just passing through. You will not be disappointed.
Here's what you need to know:
Who are they? Hometown Comics and Games
Where are they? 1040 N. State St. Greenfield, IN 46140
What are their hours? Monday through Thursday they're open from 11:00 AM – 8:00 PM, Friday from 11:00 AM – 9:00 PM, Saturday from 11:00 AM to 8:00 PM, and Sunday from 11:00 AM to 6:00 PM.
What is their phone number, if I get lost? 317-467-9050
How can I find them online? You can visit their website, haunt their Twitter feed, or keep an eye on their Facebook page.
This slideshow requires JavaScript.
Check them out, and let them know I sent ya!
Tony