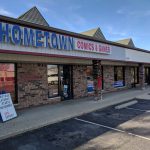 I've said it before, and now I'll say it again. You see, back in 2010, when I started writing about shops for Geeking in Indiana, I visited a shop in Greenfield called Hometown Comics. It was a neat shop, though small and slightly cramped. They had comics, games, and a welcoming attitude. As I talked to them a little bit about their shop, one thing that came up was how they felt like they couldn't expand in that location. Fast forward to 2013, and they move down to a strip mall off State Road 9 with a TON more room. You could tell they were happier with this space, but they still felt like they could do more, if they just had their own space. Jump ahead to 2018, and here I am, AGAIN, updating their information, and giving you the low-down on where to go, and what you'll find!
Much like a Pokemon, this is their third evolution, and more than likely their final. Hometown Comics and Games has moved back down State Road 9 towards downtown Greenfield, but they're now in their own building, which used to house multiple businesses. For us, the landmark is that they have moved right across from Chicago's Pizza, which is a personal favorite of Lizz's. This move was done in late summer, but we weren't able to make it over there until just recently.
The main entrance is towards the left end of the strip, as you're facing it. There are other doors, but those will point you to the main entrance during normal business hours. Then, when you walk in, BAM. Geekery everywhere. To the right are comic books, and a doorway to the gaming areas. Down the length of the store are rows of shelves, with collectibles, manga, board games, gaming books, cosplay materials, and more. Across the back are more toys, collectibles, and long boxes of comics. All along the front counter are the smaller collectibles, like the pins, the jewelry, the collectible card games, and the make-up. Yes, make-up. Hometown Comics & Games strives to help the Geeks of the Greenfield area with all of their Geeky needs, from comic books to board games to role playing games to collectible card games to basic cosplay supplies. They are very well stocked, and it's a varied collection. For example, their collection of Eaglemoss Star Trek ships made me look at my empty bank account and weep.
In addition to a large store front, Hometown also has plenty of open gaming space. They have two large rooms (one of which is pictured in the slideshow below) for tournaments and gaming. In addition, they have two "office" sized rooms that can be rented for private games. Plus, this is where they have their board game library, where folks can check out games to play. Hometown has one of the larger open-gaming spaces I've seen in Hoosier-based game shops, and it kinda makes sense. By moving into this location, they expanded by almost 1,000 square feet!
Before we left, we talked to Frances Hull (who ONCE AGAIN didn't give me grief for waiting so long between visits!) about their most recent move. She did tell me this was their final location, because they now have their own building. They are close to neighborhoods where their younger customers can easily walk to them, they can now make steady improvements to the location, including items like a bike rack and a dedicated changing room for their cosplay materials. Heck, just a few days after we discussed it, they became a Pokestop for Pokemon Go again! They have found their home, and now they're making it open and inviting to everyone who cares to visit.
Here's the information you need to know about the shop, and at the bottom of the page are some pictures of the location. Two things to note: One, these pictures were taken early December of 2018, so depending on when you look, stock levels will change. Also, I could not get a picture of one of the game rooms, because it was full of people playing! Trust me, I'm not complaining, but I don't have the means to blur out that many faces, nor the means to get permission from everyone to be included on the blog!
Who are they? Hometown Comics & Games
Where are they? 1040 N. State St. Greenfield, IN 46140
What are they? A Friendly Local Comic and Game Shop
What is their parking situation? They have their own lot.
When are they open? Monday through Thursday, 11:00 AM to 8:00 PM, Friday 11:00 AM to 9:00 PM, Saturday 11:00 AM to 8:00 PM, Sunday 11:00 AM to 6:00 PM
What is their phone number, in case I get lost and need directions? 317.467.9050
Just kidding on the phone number. Internet! Where are they online? You can see what's happening on their Facebook Page, their Twitter Feed, their Instagram Feed, or their website.
This slideshow requires JavaScript.