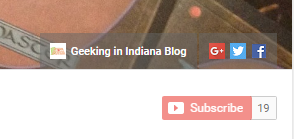 For the last few years, I've made noises about starting and maintaining a YouTube channel for Geeking in Indiana/Indiana Geeking. In fact, both Geeking in Indiana and Indiana Geeking has YouTube channels. The Geeking in Indiana channel just has a video of the Tumbler being loaded onto the truck after its appearance in front of the Wal Mart on North Keystone back in 2012, and the Indiana Geeking channel has some chintzy videos from Periscope that were recorded as I was doing the podcast intros last year, and that's about it. It's been without a direction, but in 2017, this is going to change, and I hope you'll all join me as I do some stuff that I think will be very fun, sometimes entertaining, and occasionally educational.
First off, over the course of the next month I'm going to be cleaning up the Indiana Geeking channel. Hey, while I've been "Geeking in Indiana" since 2010, I've been "Indiana Geeking" just as long, and I guess that's become my "brand." I will be recording an intro, and putting the plan together, offline. As I'm doing this, I'm also going to get Adobe Premier and just start practicing editing (thank you, YouTube tutorials!).
I'm hoping to release a new video every two weeks, alternating with the Indiana Geeking Podcast. I have three different paths I'm looking to take on this.
First, I'm going to be doing videos following the Costume Initiative and Geek Building aspects of the blog. I'm planning on showcasing techniques that I am using, or have learned, that are hard to explain via text and photos. I can not promise fire and explosions, but I can hopefully provide some fun information, to the tune of "the piano teacher just has to be one lesson ahead of their student."
While it won't be as often as the other two, the next thing I'm looking to do is just random Geek Thoughts videos. I've done a few discussions, and rants, during conventions that friends have asked, "Why haven't you written that down? Why haven't you recorded that?" So, that's what I'm going to do. I'm already writing down outlines for a few concepts, and we'll just see where those go. First up will be musings on Boba Fett that I've had since before the Special Editions were even released, and I'm really looking forward to trying to get this put together much as how I've seen it in my mind's eye.
Finally, and this is the most exciting to me, is the part of the channel that will involve a puppet.
That's right, I'm currently working on getting some patterns from Project Puppet, to make my very own Indiana Geeking puppet. Part of the Geek Building portion will chronicle the construction of Mini Me, and then he'll get his own section on the channel, as he interviews local Geeks, visits local Geek businesses, and (eventually) hits conventions! This is, of course, going to be the piece that takes the longest, because you don't just shove your hand up their velvety posterior and all of a sudden, you have a good show. At least, I don't think it works like that! Either way, I'm hoping to have him up and running by Indy PopCon in July, and we'll see what happens!
So, if you all are interested in this, there are three things you can do!
Go ahead and subscribe to the Indiana Geeking YouTube channel. I promise you I'll be mostly quiet until early February.
If you're feeling generous, use the Donate button at the right hand side of the page to help with the costs of building the puppet, or getting Adobe products.
If you're feeling REALLY generous, keep your eyes open for the Indiana Geeking Patreon Page!
At the very least, though, please do step #1, and help me stay motivated and on track for this new experience for me! Follow along as I boldly go where almost everybody and their high school A/V club has gone before!
See you tomorrow,
Tony