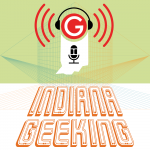 Happy Friday, my friends and readers! Team Geeking is back with another super-sized episode of the Indiana Geeking podcast! Last night, Avengers: Age of Ultron was released in the States, so in honor of the latest release in the Marvel Cinematic Universe (MCU), Bri and I recorded a little bit about the MCU up until now. We do stay spoiler-free on Daredevil and Agents of S.H.I.E.L.D., but everything up through those, including Peggy Carter: Agent of S.H.I.E.L.D., is fair game. Also to note: this is about four times as long as a normal Indiana Geeking podcast! Yes, Team Geeking has opinions about the MCU, and we threw them all out there. Without further ado, let's roll on into the podcast!

Some links of note from the podcast:
Music for this episode provided by the Free Music Archive:
Thanks for listening, everybody! Have a great weekend, and I'll see you all on #MediaMonday!
Tony