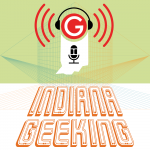 Happy Friday, my friends! We have made it another week, so it's time for another episode of the Indiana Geeking Podcast! This week, Bri is back for an episode we recorded after my first Who's Yer Con, and her first time vending at an convention (in this case, the INDYpendent Show). WARNING: This show has many, many puns by me. We are talking enough puns to make Bri almost walk out! With that in mind, let's give this episode a listen:
Some links of note in this episode:
Podcasts I gave a shout out to
Tuesday Tidbits (Where you can find mostly everything)
Where to find Bri
Music for this episode provided by the Free Music Archive:
Thanks for listening, everybody! Have a great weekend, and I'll see you all on #MediaMonday!
Tony