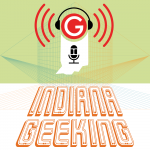 Good day, my friends! Here we are, with Episode 9 of the Indiana Geeking podcast! This week, I'm flying solo again, due to some plans falling through. However, that's okay, because yesterday was the release of the second STAR WARS TRAILER OF AWESOMENESS, otherwise known as Trailer 2 for Star Wars: The Force Awakens, so today I'm going to talk about growing up with Star Wars, camping for The Phantom Menace tickets, and my thoughts on the new trailer.
So, without further ado, let's fill your earholes with my voice:
Links of note from today's episode include:
Once again, this weekend, I'll be at Who's Yer Con on Saturday, and the INDYpendent Show on Sunday, so hopefully the next few weeks won't be solo shows! I'm intending to wear down the battery on the portable recorder that Mike has insisted I borrow until I can get one for the blog, with interviews with gamers, artists, and perhaps hotel staff.
Don't forget, if you would like to listen to the podcast someplace other than on these posts, here is where you can find it:
See you next week!
Tony
Music this week provided by the fine artists at the Free Music Archive: