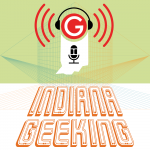 Happy Friday, my friends! Bri and I are back for the 13th epsiode of the Indiana Geeking podcast! This week, we cut it down to the wire by recording when I got out of work last night, so we're a little tired, but we are also very timely in what we want to talk about! So, between the events of this week, plus some suggestions from the Twitter-verse, we have thrown together a great 'cast for you, clocking in once more at close to an hour. So, I invite you to sit back, put on your headphones (as to not disturb those around you), and take a listen to what we have to say, and I'll see you on the other side.

Some important links of note, mentioned in this podcast:
Music for this episode provided by the Free Music Archive:
Thanks for listening, everybody! Have a great weekend, and I'll see you all on #MediaMonday!
Tony