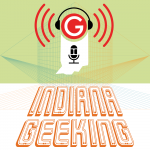 We've made it through another week, and Friday is upon us once more, my friends! Welcome to episode 14 of the Indiana Geeking podcast! This week, Bri and I didn't have a chance to actually meet up to do a podcast, so after some research, some downloading, and some crossing of the fingers, we connected on Skype and got a talk together for you. WARNING: This podcast contains MANY SPOILERS from the finale of The Flash. If you wish to avoid spoilers, skip from about 11:10 to 38:20 to avoid the discussion! However, there are other things being discussed, so you definitely want to give this a listen, and I'll see you on the other side!

Important links of note from this episode:
Where to find Bri online!
Where to find Tony (and, by extension, this blog) online!
Where to find the Podcast online!
Music for this episode provided by the Free Music Archive:
Thanks for listening, everybody! Have a great weekend, and I'll see you all on #MediaMonday!
Tony