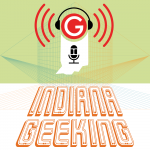 Good day, my friends, and welcome to another episode of the Indiana Geeking Podcast! This week, we take a cue from listeners @TheDailyClaire and @hmills96, and we talk about what it's like to be a new nerd, a green Geek, a fresh face in fandom! Bri and I have tips on what it's like being a new Geek on the block, what it was like when we first started Geeking, and some tips on how to deal with the less savory parts of fandom! So let's give this week's episode a listen, shall we?

Links of interest:
Where to find Bri online!
Where to find Tony (and, by extension, this blog) online!
Where to find the Podcast online!
Music for this episode provided by the Free Music Archive:
Thanks for listening, everybody! Have a great weekend, and I'll see you all on #MediaMonday!
Tony