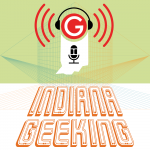 Happy Friday, my friends! We've made it through another week, which means it's time for your reward! That's right, Bri and I are back with another episode of the Indiana Geeking Podcast! Episode 16 is another "Listener Request" episode, this time from Ginger Dee on Twitter. Ginger threw out the desire for a "podcast that'd say 'just watch these 5 episodes' of any looonnng show". Well, Gin, we are here to help! This week, Bri takes a look at Buffy the Vampire Slayer, I take a look at Star Trek: The Next Generation, and we both look at Doctor Who! So, let's take a listen, and I'll see you on the other side!
Now, for links of interest:
Doctor Who – Time Crash (Video)
Where to find Bri online!
Where to find Tony (and, by extension, this blog) online!
Where to find the Podcast online!
Music for this episode provided by the Free Music Archive:
Thanks for listening, everybody! Have a great weekend, and I'll see you all on #MediaMonday!
Tony